Many leading hospitality companies looking at expansion are either deferring launches or stalling projects on the back of various challenges including fund crunch and roadblocks in getting permits.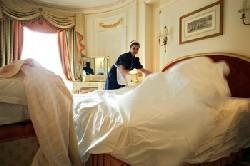 According to a study by consulting firm HVS, the hospitality companies had announced to add 90,000 rooms by April 2015.

Realistically, industry experts say, only two-thirds of the figure will materialise by then. Of the rest, some will get delayed and others shelved.

For instance, Accor Hotels initially planned to set up a network of 50 hotels in the country by the end of 2012. Currently, it operates nine, the latest being ibis at Mumbai Airport, which opened last month.

The others include 3 Novotel, 3 Mercure, 2 ibis. Sofitel, Pullman and Formule1 brands are expected to debut during this year.

Michele Casse, senior vice-president (operations), India, Accor Hospitality, said India was not the easiest of countries to be precise about completion dates for large-scale projects.

"There are many factors contributing to the extended construction and opening periods." The factors leading to delay include a lengthy period required to obtain the various permits needed to occupy the premise and then operate a hotel, he added. Between now and the end of 2012, Accor will open 21 more hotels, taking the network to 30 hotels. This means it will fall short by 20 properties. The pace of work depends upon the real estate owners and their focus.

"At the time of the 2008 economic slowdown, it was the core business of real estate companies that was impacted, which includes residential buildings. Enhancing cash flows becomes more important and hotel takes less priority," said HVS Managing Director Kaushik Vardharajan.

Marriott's
Ritz Carlton is another project running late by two years. Announced in 2007, the hotel was scheduled to come up in 2010.
"There were several problems with the hotel. First, there was an issue of permissions. Later, there were technical glitches because of which the property had to redesigned," said Navjit Ahluwalia, senior vice-president (hotel development), Marriott International.
The delay has also led to a 15-20 per cent cost escalation for every project. "The price of commodities like cement fluctuates. For hotels which have not even broken ground, the cost increase can be huge," said P R Srinivas, leader (tourism and hospitality), Deloitte.
Hilton Worldwide, which currently operates five hotels in Delhi, Mumbai and Chennai, plans to triple its presence in the next two years by having 14 properties.
"Hilton has also seen delayed expansion due to several bottlenecks including real estate issues. Several international companies underestimate the duration required for opening a hotel in India," Srinivas added.
Industry experts also agree it is difficult to put a time frame on certain requirements like getting over a 100 government permits from the time of starting construction to completion.
"A case in point is Trident's Bandra-Kurla property which was all set and raring to go, but at the last moment it got stuck for nine months for want of one certificate," a senior executive of the hospitality industry said.
Meanwhile, there are many other hotel brands, from Starwood luxury hotel St Regis to Mandarin Oriental, that want a share of the pie which is the grand Indian market.
Back home, the domestic hospitality major Leela Palace and Resorts has also been toying with the idea of launching its three star brand Leela Gardens but its internal financial situation has been a hindrance.