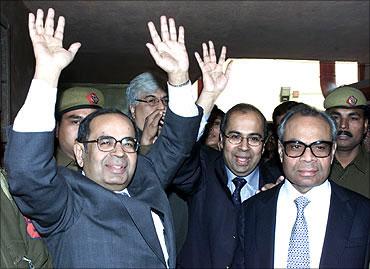 Hinduja brothers have been ranked as Britain's richest Asians in 2014 with a total worth of 13.5 billion pounds, an increase of one billion pounds over the previous year.
At a gala Asian Business Awards 2014 function held at the Park Plaza Westminster Bridge Hotel here last night, the group also won the Asian Business of the Year award for its outstanding achievement.
G P Hinduja, Co-Chairman of the group and brother of Chairman S P Hinuja, received the award from the Chief Guest Michael Gove, MP, Britain's Secretary of State for Education, in the presence of India's High Commissioner Ranjan Mathai, who was the Guest of Honour.
Gove also released the Asian Rich List, declaring Hinduja group, a conglomerate with interests in banking, oil and manufacturing among many, as the richest in the UK for the second consecutive year.
Just behind the group is steel tycoon Lakshmi Mittal with a wealth of 12 billion pounds, one billion pounds more than the previous year.
Leading NRI industrialist Lord Swraj Paul and Angad Paul (Steel) have been listed as 10th richest with wealth amounting to 750 million pounds, whereas mining giant Anil Agrawal was ranked third (2.4 billion pounds) followed by Sri Prakash Lohia (Petrochemicals and textiles) (2 billion pounds).
India's Tata Ltd won the International Business Award. Tatas are the biggest industrial employers in the UK.
Dr Rami Ranger, MBE, Founder and Chairman of Sunmark ltd, winner of Queen's award for exports for fifth consecutive year, won the Business Personality Award while Veena Nangla of Brightsun Travel was declared as the Asian Business Woman of the year. Chakra restaurant in London received the Restaurant Award for 2014.
According to the Asian Rich List 101 published by EasternEye, one of the publications of the Asian Media & Marketing Group headed by Ramniklal Solanki CBE, there are nine Asians in the UK who can be called billionaires.
The estimated wealth of the 101 Asians in the list totals almost 52 billion pounds - up just over 6 billion pounds on 2013's total.
According to the Rich List, the year 2014 is going to be a big one for the Hindujas for it will mark the centenary of the group, which has its headquarters at New Zealand House in Haymarket, London and employs 75,000 people across 35 nations.
The Hinduja group has what Gopi Hinduja likes to call 10 'verticals' namely: health, energy, power generation, automotive, finance and banking; oil and gas; IT and BPO; media and cable; real estate; and trading.
In India, even with the slowdown in the economy, the Hinduja group, according to the Rich List, has investment plans worth one billion pounds.
"We are hoping that we have a stable government. If a stable government comes, from 2016 our economy will be booming like before," Gopi said, commenting on Lok Sabha election.
According to the List, at 83, Lord Swraj Paul could leave the running of his Caparo steel, automotive and engineering products empire in the capable hands of his children and grandchildren and spend the entire day playing golf, but this is not a proposition he regards with any enthusiasm.
"I have no doubt that Caparo is in very good hands. But my being here is a message to them also - I come here because my maximum enjoyment is here. You can enjoy your work as much as anything else," Lord Paul said.
Lord Paul said the British economy is improving, "without any question. Certainly, there's more confidence. (At Caparo) the order books are better. The economy is definitely better but this improvement is fragile." He has reservations, though, about the banking and financial sectors.
"The banks are still not lending money - and people are afraid to borrow money because they don't know if all of a sudden the banks will say, 'We want the money back'. This is why 'we don't borrow more than what is absolutely necessary'."
He feels Britain had created an unnecessarily negative climate with talk of cutting down on immigration and visas.
"There is a perception in India that Indians are not welcome as students or for work and people in India are fairly sensitive people," Lord Paul said. As far the atmosphere which has been created around immigration, "the sound of the bite is worse than the bite itself".
Nevertheless, as chancellor of the universities of both Wolvehampton and Westminster, he was concerned that "there has been a drop in the number of students coming from India."
The upshot is that "Britain is losing out because Indian students are going to the US, to Australia and Singapore." On doing business with India, Lord Paul said, "It is very difficult for small and medium businesses to work with India because the regulations are horrendous. It is very difficult for small and medium businesses to set up plants in India because there are far more obstructions than in most countries in the world."
In marked contrast, happily, "Britain is much more welcoming. That is why we are seeing more investments from India to Britain than from Britain to India."
Lord Paul does not think possible changes of government in India next month or in the UK next summer will greatly affect bilateral trade. At the moment, the Indian economy, in his opinion, "is not doing well. The main problem is that inflation is very high".
"Whoever gets elected has got to get hold of the corruption problem by the neck because without that I don't think the Indian economy can improve," he said.
Did he subscribe to the opinion held by some that Narendra Modi's prime ministership would be good for the Indian economy? Lord Paul would not be drawn on the politics but he said; "If you go by the Gujarat experiment I have no other choice but to agree. Gujarat is the plant where we have had no complaints, no unhappiness: the rest time will tell. But a change is good for any country."