Clinton, who was joined by Senator Tim Kaine, is on a bus tour in Pennsylvania and Ohio with her vice presidential running mate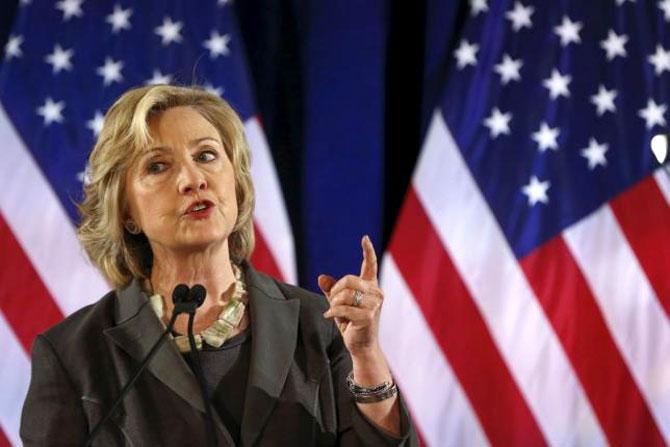 Hillary Clinton, on Sunday, said her economic plan would create 10 million jobs in the US while that of Donald Trump would cost three and half million jobs as the Democratic presidential nominee underlined her Republican rival is not offering "real change" but "empty promises".
"My plans would create millions more jobs than Trump's," Clinton said at an election rally in Johnstown, Pennsylvania. "In fact, under my plans, the economy would create at least 10 million jobs in our first term," she added.
"As for Donald Trump? Well, his policies were found that they would actually cost us nearly three and a half million jobs," the 68-year-old former secretary of state said, referring to a study done by a top economist associated with the presidential campaign of Senator John McCain.
"In fact, the more you listen to Donald Trump, the more you realise he is not offering real change. He's offering empty promises, and what little we know about his economic policies, from running up our debt, to starting trade wars, to letting Wall Street run wild, could devastate working families," Clinton said.
She said her vision of America is in "sharp contrast" to what Trump is "laying out, because I don't think we're weak".
"I don't think we're in decline. I think we can pull together because we are stronger together, and if anybody like him spent a day on the factory floor here, they'd see what teamwork looks like. They'd understand what it means to create and build."
Clinton, who was joined by Senator Tim Kaine, is on a bus tour in Pennsylvania and Ohio with her vice presidential running mate. During the tour, they said in the first 100 days in office, they would announce to make the largest investment in new, good-paying jobs since World War II.
Visiting Johnstown Wire Technologies, a factory with a record of creating jobs and investing in America, Clinton highlighted her plans to invest $10 billion to strengthen manufacturing communities like Johnstown.
Clinton and Kaine contrasted their shared vision for an American economy that works for everyone, not just those at the top, with Trump's long record of outsourcing products to be made overseas, instead of here in America.
"Donald Trump, you hear him, he talks a big game about putting America first. Well, with all due respect, please explain to me what part of America first leads Trump to make Trump dress shirts in Bangladesh, not Ashland, Pennsylvania.
"Or to make Trump furniture in Turkey, not Freeburg, Pennsylvania. Or Trump picture frames in India, not Bristol, Pennsylvania," Clinton said.
The Trump Campaign criticised her for visiting this township in Pennsylvania, saying Clinton visiting Johnstown is like a "robber visiting their victim" as the state has lost 1 in 3 manufacturing jobs since China was put in the World Trade Organisation.
Kaine said: "We are on this tour so that we can talk about the American economy: to talk about manufacturing; to talk about the way to grow jobs and make sure everybody benefits from our economic growth, not just a few."
Stephen Miller, senior policy advisor to the Trump Campaign said "the state of Pennsylvania has lost 1 in 3 manufacturing jobs since China was put in the WTO with Hillary's support. The Johnston region lost nearly 1 in 2 manufacturing jobs since Hillary-backed NAFTA (North American Free Trade Agreement) went into effect".
Clinton's next assault on Johnstown will be the Trans-Pacific Partnership, he said.
"Donald Trump delivered a detailed 7-point plan to restore American manufacturing, including countervailing duties on trade cheaters like China and immediate withdrawal from the TPP. Hillary has no plan because her donors won't let her," he said.
Photograph: Shannon Stapleton/Reuters