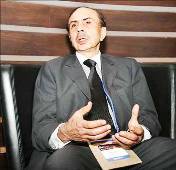 Confederation of Indian Industry president Adi Godrej welcomed the diesel price hike and capping of the number of LPG cylinders, according to the industry chamber statement.

The move was essential for controlling the fiscal deficit, which has been weighing on the economy, Godrej said.

The main risk to the fiscal deficit arises from subsidies, which are threatening to far exceed the provision made for them in the Budget.

Taking the case of oil subsidies, he said that, as against the oil subsidy for the current financial year budgeted at Rs 43,850 crore (Rs 438.5 billion), the first quarter of the current financial itself recorded Rs 47,811 crore (Rs 478.11 billion) under this head.

Concerned over the escalating oil deficit, the Kelkar Panel has laid stress on reducing oil subsidy bill for the remaining months of the current fiscal year.

While it may seem that a hike in diesel prices will hurt the common man through its impact on inflation, the hidden impact of under-pricing petroleum products is quite severe, said the President.

For one, the government has to borrow from the market at high interest rates to pay for petroleum products which are being imported at high cost.

Further, since the consumer does not have to pay a high price, even as international prices are rising, there is no attempt to economise spending on a scarce resource.

The high fiscal deficit has also lead rating agencies to threaten a cut in India's credit rating.

The fiscal deficit target for 2012-13 is under danger of being breached by a wide margin.

For the first four months of the current financial year up to July 2012, the deficit of the Union government has already breached 50 per cent of the budgeted amount for the whole year.

Slowing growth momentum of the economy has resulted in lower realization of tax revenues, especially from indirect taxes.

Further, the expenditure of the government has been increasing much beyond the budgeted target.

In such a situation, it would be prudent to limit the spending on subsidies, said the CII president.
Image: Adi Godrej