The central government's highway award and construction target for the current fiscal is dominated by the Bharatmala scheme.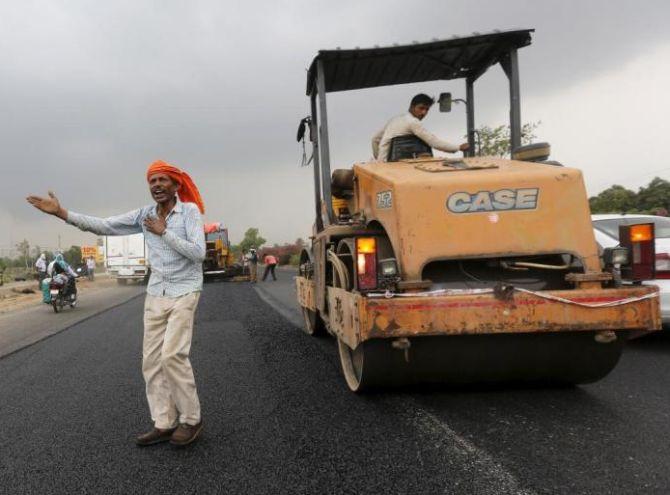 The Union transport ministry will be walking a tightrope this year as the Nitin Gadkari-led ministry intends to focus on monitoring and implementation of highway projects, ahead of general elections next year.
Experts, however, feel the implementation should not be at the cost of awarding new contracts, since that would affect the project pipeline in the coming years.
According to a senior official in the ministry, the focus during 2018 would be more on the implementation of the existing projects rather than awarding new contracts.
Project execution in the past has been hampered by hurdles in land acquisition and subsequent higher cost of compensation.
Besides, it is learnt that the ministry has prepared a list of certain projects in the northern part of the country that are being closely monitored so that they can be showcased as Union government's achievement in the infrastructure sector before the next general election in 2019.
These include the Eastern Peripheral Expressway (EPE) and Delhi-Meerut Expressway.
The civil work for Delhi-Meerut Expressway and 6-laning of Dasna to Hapur Bypass section of NH-24 has been divided into four packages.
The contract for three packages has already been awarded for a total cost of Rs 38.89 billion.
The scheduled date of completion for Package-I, Package-II and Package-III is May 2019, May 2020 and June 2019, respectively.
The bids for fourth package connecting Dasna to Meerut have been received.
The Rs 57.63 billion EPE is a 135 km long access controlled six-lane road.
Sadbhav Engineering Ltd, Jaiprakash Associates Ltd, Ashoka Buildcon, Gayatri Projects Ltd and Oriental Structural Engineers are executing the packages for the EPE.
The work is due for completion before March 2018.
Sector experts feel that the government should focus on awarding of new projects to keep the road development works going as there were enough mechanism in place to monitor the implementation of contracts.
"Monitoring of existing projects is not required as the new Model Concessionaire Agreement (MCA) has an in-built penalty for delays and incentives for milestones achieved during the stipulated timeframe. There is no need for a separate monitoring cell," former road secretary Vijay Chhibber told Business Standard.
The project award target was set at 6,500 km in the beginning of the financial year (2017-18), which was revised to 10,000 km in October.
The Ministry of Road Transport and Highways awarded 15,948 km of highway contracts and constructed 8231 km of roads in 2016-17.
The central government's highway award and construction target for the current fiscal is dominated by the Bharatmala scheme.
Under the scheme, approved by the Union Cabinet in October, the government plans to construct 20,000 km of highways connecting western and eastern parts of the country at an estimated investment of Rs 7 trillion.
Photograph: Adnan Abidi/Reuters