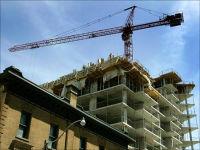 The sudden spurt in cement and steel prices is hurting real estate developers. While steel prices have shot up 22 per cent in the last few months, cement prices are up 34 per cent.
Prices in Mumbai have gone up twice last month and are ruling at Rs. 270 per bag for grade-A cement.
Prices in Hyderabad have increased to Rs. 250-255 per bag. Increase in the cost of raw materials such as coal and freight is cited as the reason for the price jump.
Adding to the woes is the availability of cement, say builders in the National Capital Region. If the situation continues, they say, it would hamper construction activities and builders' ability to deliver on time.
"Steel prices, which were at Rs. 30,000-31,000 a tonne three months back, are today ruling at Rs. 37,000-38,000 a tonne. We don't have a choice as you can't stop construction," says Pravin Jain, CEO, Adinath Probuild, a Ghaziabad-based builder.
Prices of ordinary portland cement shot up from Rs. 190 per for a 50 kg bag, 45 days ago, to Rs. 255/bag.
"We pay in advance yet availability is a big issue. Absence of raw materials can delay projects," says Jain.
Parsvnath Developers CFO R N Maloo says cement prices suddenly shot up and are abnormally high, at Rs. 255, compared to Rs. 190-45 days ago. "There's really no case for such a steep increase," he says.
Rise in steel and cement prices will jack up construction costs by 15 per cent. Steel accounts for 20-35 per cent of cost of construction, depending on the project (higher for multi-storeys and commercial buildings) and cement accounts for 15-20 per cent of costs.
Builders say they budget in for a 10-15 per cent rise or drop in prices in their costing, and a higher rise in prices eats into margins.
Real estate developers are battling a sales slowdown due to rising interest rates and tighter lending norms, spurt in input costs and a lending squeeze from banks hurts.