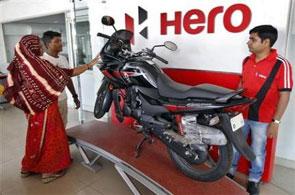 In its first overseas acquisition after parting ways with Honda, country's largest two-wheeler maker Hero MotoCorp (HMC) on Monday said it has picked up 49.2 per cent stake in US-based high-end motorcycle maker Erik Buell Racing (EBR) for $ 25 million (about Rs 148 crore).
The development comes more than a year after the two companies had entered into design and technology sourcing pact as the Indian firm looks to strengthen presence in the global markets.
"This is the first time that Hero has gone out of India to buy equity into a company. This is the first step of Hero in terms of financial investment (into a company) on the road towards globalisation of the Hero brand," Hero MotoCorp MD and CEO Pawan Munjal said.
Commenting on the gains from the acquisition, he said: "This extends our relationship. We will be working with EBR even more closely now and get into selling and marketing of both EBR and Hero brands of products in both international and domestic markets."
To carry out the acquisition, HMC said it has incorporated a wholly-owned subsidiary in the US by the name of HMCL (NA). HMC has paid the first tranche of $15 million to EBR already and the balance $10 million will be paid within nine months in a single tranche.
Munjal said HMC will play a more active role in the operations of EBR, which will now also function as an extended R&D arm of the company. HMC will have two directors on the board of EBR although the current management of the US-based firm will continue to be lead by its Chairman and CEO Erik Buell.
Munjal said the acquisition will give Hero access to North American market where EBR is already present and also in Europe, where it has been firming up plans to enter through its high-end bikes.
"As of now, we have not decided under which brand products will be sold, we will decide in due course of time but I personally feel that some of our current brands can be launched in those markets," Munjal said.
When asked if EBR bikes would be launched in India, he said: "There is a definite possibility but not immediately." HMC expects EBR's capacity to manufacture bikes to reach 20,000 per annum in the next five years. The American firm had sold 65 niche segment bikes last year.
Since its break-up with Honda in 2010 ending their 26-year-old relationship after the Indian partner agreed to buy out its Japanese partner's 26 per cent stake in Hero Honda for Rs 3,841.83 crore, HMC has been seeking out for global partnership.
Last year Hero MotoCorp (HMC) had roped in Italian two-wheeler design firm Engines Engineering to partner with it in bringing next-generation product line-up and provide technological know-how in terms of designing for future products to be launched by it. It had also tied up with Austrian engine developer AVL to enhance its capabilities.
When asked if HMC could consider a similar stake pick up in the partners, Munjal declined a direct answer but said: "We will continue to pursue on the path of inorganic growth in addition to organic growth but the pace will depend on what we find."
The company's fully-owned overseas arms such as in the US and Netherlands would play in future global acquisitions and investments, he added. In 2011, HMC had announced that it was looking at a $10-billion turnover in the five years' time with a total sales of 10 million units, out of which 10 per cent will come from exports.
Munjal said HMC the partnership with EBR will not immediately help in meeting its export targets and that would be met through the company's existing products.
When asked about expanding its export markets, he said HMC will soon enter the African market, starting with Kenya, Burkinafso and Ivory Coast followed by Angola. It is looking to set up two assembly plants in Africa -- in Kenya and Nigeria.
On Latin America, Munjal said Hero branded products will be launched in Equador and Peru soon. It may set up an assembly plant by the middle of next year in Colombia, where it is already present through distributors of its erstwhile partner Honda.
He said the company will consider setting up full fledged manufacturing units in Africa and Latin America only when the volumes grow bigger without specifying a time line. The company is expecting its exports to touch 3.5 lakh units this fiscal from about 2 lakh units last year on the back of the market expansions it is undertaking currently.
For the domestic market, he said the company will launch a slew of products which will refurbished versions of existing models across categories. "The domestic market has been down for a long time but we think it will start picking up in the second half of the fiscal and we are beginning to prepare for that," Munjal said.
Shares of HMC were trading at Rs 1,692.35 on the BSE in the afternoon trade, up 1.81 per cent from their previous close.