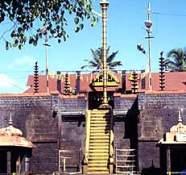 Bharat Airways Private Limited (BAPL), a Bangalore-based aviation company, has started the first heli-taxi service in Kerala, connecting Kochi international airport with Sabarimala, a famous pilgrim centre.
The service, launched on Saturday, would provide air connectivity to Nilakkal, a place near the Sabarimala temple in Pathanamthitta district.
A Bell-407 helicopter with five passenger seats would be offered initially at a cost of Rs 45,000 (Rs 9,000 per person). The copter will take 30 minutes to reach Nilakkal from Kochi.
The service will commence on a pilot basis from October 15. Regular services will commence from November when Mandalakalam, the main pilgrim season at Sabarimala, starts and there would be taxi service between 6 am and 6 pm.
Travancore Devaswom Board president M Rajagopalan Nair flagged off the first service in the presence of CG Krishnadas Nair, managing director of Cochin International Airport Limited (CIAL).
According to BAPL, more helicopters with passenger capacity of 14 persons would also be introduced once the construction of the helipad is completed at Nilakkal. The company also proposes to commence similar services to other famous pilgrim centres like Guruvayoor and Kodungallur.
Krishnadas Nair said that CIAL planned to construct an exclusive heli-terminal with 4-5 helipads near the airport. CIAL is expecting to start the construction of helipads in January next and launch the operation in 2011. In a bid to tap the potential of copter service for tourism and pilgrimages, CIAL will tie-up with other operators in heli taxi service. The company plans to make Kochi a major hub for heli taxi services in Kerala.
The proposed heli-terminal will be constructed in five acres of land with parking facility for copters and other facilities. This will also be used to promote medical tourism in the state in association with Kerala Tourism Devlopment Corporation (KTDC).
BAPL will submit a project report to the tourism department of the state for commencing the heli taxi services connecting the various tourist centres in the state. The company will also conduct a study on the feasibility of connecting all the major tourism locations of Kerala through the service.