The founder of the e-commerce firm, which specialises in procurement of industrial products, believes if he plays his cards right, his company could become a unicorn with a valuation of $1 billion in 5 years. Karan Choudhury reports.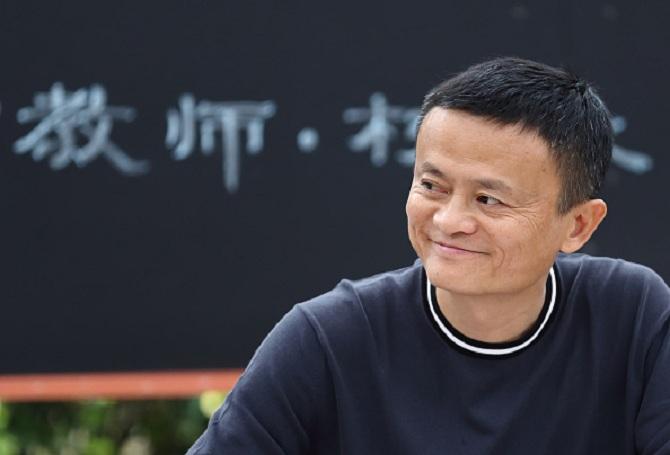 IMAGE: Alibaba Group chairman Jack Ma. Photograph: Getty Images.
Having a catchy brand name matters for an e-commerce company. This is the first thing Rahul Garg, founder and chief executive officer of Moglix, learnt from his inspiration, Chinese technology giant Alibaba.
Just like Alibaba, he needed a brand name everyone easily would remember and relate to. So, Garg zeroed in on his favourite character from childhood, Mowgli of The Jungle Book, and named his B2B e-commerce marketplace, which specialises in procurement of industrial products, Moglix.
Two-and-a-half years and unit economics profitability later, Garg thinks it was one of the best decisions he had ever taken. If he plays his cards right, he believes in the next five years his company could become a unicorn, with a valuation of $1 billion.
For Garg, an alumnus of the Indian Institute of Technology-Kanpur, with 16 patents to his name and five years of work experience with Google, a foray into B2B e-commerce made perfect sense. Unlike a Flipkart or Snapdeal, Garg realised B2B e-commerce was under-served in India and provided a major opportunity.
"Moglix is focused on the Indian manufacturing sector, which is $300 billion in size and adoption of technology is less than 5 per cent. We are well placed to bring in innovation to manufacturing and supply chain. We have already seen success in working with large enterprises in India," Garg said.
The company's solutions cater to more than 100,000 small and medium-sized enterprises (SMEs) and over 200 large manufacturing houses in India. It has more than 200,000 stock keeping units (SKUs) listed on its platform and serves some of the largest automotive and electrical companies like Lumax, India Forge and Havells.
Moglix's USP is its ability to integrate technology with domain expertise in manufacturing and supply chain management.
It also builds digital technology into the sales channel and procurement functions of manufacturing units.
"We recently expanded to Pune and Chennai in automotive manufacturing and have established five warehouses in NCR, Pune and Chennai," Garg said.
The company has warehouses and fulfilment centres in 20 locations.
---
Expert take
The online B2B market is twice that of the online B2C market globally and India is catching up with this trend. India is growing faster than any other country in online B2B.
Improvements in digital infrastructure, increased smartphone penetration in semi-urban and rural markets, online payment solutions and a government focused on digitisation are a few reasons fuelling growth in this space.
While global giants such as Amazon and Alibaba have also entered the fray, the problem in supply chain in India offers companies an immense opportunity to build "Made for India" solutions.
Moglix, with its broad catalogue of industrial products matched by a hassle-free buying experience, is one of the leaders of online B2B distribution in India.
---
"We are excited to be working with Moglix as the company enters the next phase of its growth with the launch of GreenGST. B2B is a fast-emerging space and Moglix has been at the centre of it with the right moves," said Subrata Mitra of Accel Partners.
Moglix, backed by Tata Group Chairman Emeritus Ratan Tata, has become unit economics positive. It has grown by over 20 times in the last 18 months and is on a major expansion drive.
"We plan to achieve overall profitability in the next 18-24 months. In the next five years, we could be a $1-billion company," Garg said.
The company has three lines of business, an online marketplace, enterprise commerce and technology. It is equally bullish on the three streams.
But Garg has a bigger aspiration -- to take on Alibaba in India. "In the near future, we will potentially disrupt Alibaba's B2B business in India," he said.
Moglix earlier this month raised $12 million from International Finance Corporation (IFC), a member of the World Bank group, and Rocketship, along with existing investors Accel Partners, Jungle Ventures and Venture Highway.
"Moglix's client satisfaction, innovation, strength of management and expansion are redefining the B2B e-commerce market," said Pravan Malhotra, head of Asia Internet investments, IFC.
The funds will be used to support technology solutions in supply chain and manufacturing, infrastructure growth and expansion plans. The company also has acquisition plans.
"With this investment we are aiming to launch in three more cities. We will expand our warehouse facilities, investments in technology and create a stronger supply-chain network," Garg said.
However expansion comes with its challenges.
For Moglix, the principal one is finding talent. "Human resource is critical to building a sustainable organisation and we are committed to that culture as we expand," Garg added.
Moglix has 200 employees, which it plans to take the number to 300 this year.
"Moglix is doing an amazing job building SaaS products for the manufacturing and supply chain industry. Our investment in Moglix reflects the trust we have in it," said Anurag Srivastava, founding and managing partner, Jungle Ventures.