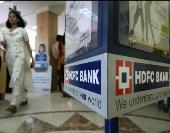 Leading housing finance firm HDFC announced on Friday a hike in its benchmark lending rate by 75 basis points, making home loan dearer for both existing and new borrowers.
HDFC has raised its retail prime lending rate by 0.75 per cent with effect from December 1, 2010, it said. With this revision the RPLR goes up from 14.25 per cent to 15 per cent.
"This is in line with the current rates of interest in the economy, which have hardened due to rising inflation and shrinking liquidity in the domestic market," it said.
While HDFC has increased its benchmark by 75 basis points since its last hike in September, the overall interest rates in the economy have moved up as much as 125 basis points during this period, it said.
Faced with tight liquidity, many banks, including Punjab National Bank, Allahabad Bank and Syndicate Bank recently raised their deposit rates.
For new borrowers, it said, the home loans up to 30 lakh are priced at 9.5 per cent while loans up to 75 lakh (Rs 7.5 million) will cost 9.75
per cent.
Earlier this week, HDFC also decided to discontinue the teaser rate scheme that entails cheaper home loans to new borrowers.
HDFC's scheme of dual rate home loan, which expired last month was not extended. Teaser rate is a special loan scheme under which a concessional rate is offered for a limited period to attract customers.
Under this offer, HDFC offered home loans at a fixed rate of 8.5 per cent up to March 31, 2011, 9.5 per cent for a period between April 1, 2011 and March 31, 2012 and the applicable floating rate for the balance term.