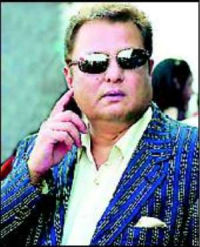 In huge embarrassments for the Enforcement Directorate, a Mumbai court on Friday rejected its plea seeking remand of Hassan Ali Khan for his custodial interrogation in a money laundering case and granted bail to the businessman.
"No material evidence has been presented by the ED that shows any scheduled offence has been committed by Khan," Principal Sessions Court Judge M L Tahaliyani observed while rejecting the agency's remand application.
The judge, however, set some conditions for extending 53-year-old Khan bail, including barring the Pune-based stud farm owner, from leaving Mumbai for five days and directing him to appear before the ED officials every day.
The ED said it will challenge the order and move a superior court. Khan, alleged to have stashed over $8 billion in UBS bank in Switzerland and in other illegal transactions abroad, was arrested on Monday under the Prevention of Money Laundering Act and has been in ED custody since then.
Khan is facing charges of alleged money laundering and tax evasion.
Soon after the court dismissed ED's plea and ordered Khan to be released on bail, the investigative agency's counsel Rajiv Awasthi said they would move a superior court against the order after going through the full text of the judgement.
"We have overwhelming evidence (to show Khan's culpability in money laundering) but probably the court failed to appreciate those. We will appeal before a superior court," Awasthi told reporters.
Asserting that ED's investigation in the case was preceding "effectively", Awasthi said, "We have received some links... Hassan Ali's remand was needed to bridge some gaps in the probe."
The court had on Wednesday severely rebuked the Enforcement Directorate over its handling of the money laundering case, observing it had not been able to make out even a single case against the businessman to seek his custody and asked the agency to do its "homework".
"You people are not able to make out even a single case against him (Khan), so what do you want his custody for? What do you want to investigate him for? You people show one offence against him and then we can talk of custody," Tahaliyani had said pulling up the ED.
"You can't keep any person in custody unless you make a case (against him)," the Judge had said.
In its application seeking Khan's remand, the ED had referred to the huge amounts allegedly stashed away by him abroad and links to international arms dealer Adnan Khashoggi.
The application also spoke about the multiple passports he had acquired using forged documents. Khan had been arrested by Mumbai police in this connection after the Regional Passport Office filed a complaint against him in 2008.
He was later extended bail.
The ED application said Khan had given instructions to transfer funds from his foreign bank accounts to various accounts outside India.
It said $700,000 was allegedly transferred from Khan's account in Sarasin Bank in Switzerland to the account of S K Financial Services based in the UK maintained by Barclays Bank London through Citibank, New York.
The ED accused Khan of dealing in, acquiring and holding foreign exchange equivalent to Rs. 36,000 crore (Rs. 360 billion).
On his Khashoggi links, it said: "This requires intensive probe as it has a bearing on national security as well."
While taking note of accusations of Khan's links with Khashoggi and those involved in terror activities, the Supreme Court had on Tuesday asked the probe agencies to weigh the option of booking him under anti-terror law.
The ED also said that it had seized laptops and incriminating documents during the searches conducted at Khan's premises.
While accusing Khan of not cooperating in the investigations, ED said it apprehended that he may tamper with evidence and dispose of the money lying in his bank accounts.
The Supreme Court had last week come down heavily on the ED for not being able to go after Khan and other alleged black money hoarders.