With passengers flying Indian skies getting more and more unruly, day by day, airlines are forced to stock rope and handcuffs on board, and use them, reports Arindam Majumder and Aneesh Phadnis.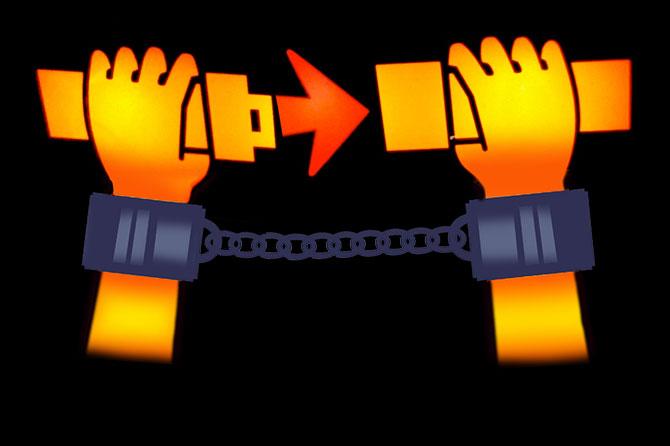 Airlines operating out of India are becoming proactive. They have stopped shying away from taking extreme measures against misbehaviour on flights.
In a recent onboard incident, an IndiGo passenger, Chhatu Bhagat, was handcuffed on a Dubai-New Delhi flight.
Bhagat was restrained through a three-hour flight after he created a ruckus and then asked the cabin crew to open the plane door.
After these incidents, domestic carriers are more aggressive in their policy to control unruly passengers.
The Directorate General of Civil Aviation has also allowed the use of extreme measures to avoid these incidents.
"We have instructed (keeping) handcuffs on board so that passengers causing a commotion could be restrained," said Air India Chairman and Managing Director Ashwani Lohani.
A business class passenger on a US-bound Air India flight from Mumbai to Newark was accused of groping a woman passenger, said an airline official.
"Our crew kept a watch on him following the complaint and handed him over to the authorities after landing," the official added.
Air carrier IndiGo now carries nylon ropes and other restraining device on board to stop such incidents.
The airline has trained its cabin members to follow a four-level procedure to thwart such incidents.
If there is verbal abuse, a warning is given. However, if a serious act like breaking into a cockpit takes place, then the person can be handcuffed.
'Restraining devices should be used when all conciliatory approaches have been exhausted,' the airline said.
"At Jet Airways, management of the situation depends on the perceived threat level and mechanics to address them. The vary from an initial 'soft verbal approach' to finally 'restraining' -- should such a situation arise, to manage on board security," said an airline spokesperson.
AirAsia, too, confirmed their crew were authorised to handcuff a passenger if the situation gets out of control.
"If a situation gets out of control, cabin crew are authorised to use the restraining device to protect cabin crew members, other guests and ensure safety of the aircraft," an airline spokesperson said.
Indian aviation ministry officials said the government was working to create a blacklist, similarly like the United States, to bar such passengers from flying.
"We are working on creating a robust identification process of unruly passengers and prevent them from flying in future," an official said.
A biometric entry has been launched as a pilot at some airports like Hyderabad and Bengaluru.
Vistara said it has rarely faced such situations. But it has trained its crew to manage these situations.
"An action can be taken against such passengers on careful evaluation of each unique case with options including but not limited to offloading them when on ground or handing over warning letters if airborne," said a Vistara spokesperson.
The number of incidents involving unruly passengers has jumped 12-fold in four years, according to the International Air Transport Association.