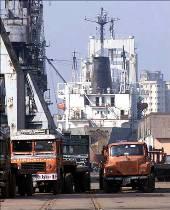 Haldia Bulk Terminal is not the only project ABG has exited in recent times.

Earlier this month, the company had terminated its contract with the Kandla Port Trust.

It had also washed its hands off the fourth container terminal at Jawaharlal Nehru Port Trust, despite making a winning bid, with Port of Singapore Authority as the lead partner.

Seemingly undeterred by these developments, ABG Ports has firmed up expansion plans worth Rs 1,300 crore (Rs 13 billion).

These include four projects in Visahkapatnam and Tuticorin.

For three of these projects, the company has partnered French company Louis Dreyfus.

ABG is also bidding for port projects in Bangladesh and West Asia, as well as projects in various domestic ports, including a car terminal in Chennai.

Unlike its rivals Pipavav and Adani, currently, ABG has no plan to invest in any non-major port (state government-controlled).

Port authorities are, however, wary of signing contracts with the company.

A senior JNPT official said, "Because of ABG, we had to delay awarding the fourth container terminal by two months. We were not sure of their credibility, but since the request for qualification was accepted, we could not have gone back on it half-way."

To win the bid, a PSA-led consortium had offered a revenue share of about 50 per cent. Industry sources said later, ABG wanted to pull out of the project, owing to financial constraints.

But as the law ministry didn't allow ABG to withdraw from the consortium, the bid was scrapped.

"PSA was the lead member for the fourth container terminal; ABG had no role to play.

"As a consortium member, our relationship with PSA has always been specific to each project and on a case-to-case
basis," said Saket Agarwal, director, ABG.
In the case of the Kandla container terminal operated by ABG and PSA, port authorities say the termination notice was first given by the Kandla port to ABG.
"ABG later gave us a counter notice.
"They had not completed the development work and, therefore, violated the agreement," said P D Vaghela, chairman, Kandla Port. ABG, however, blames the port.
"The apathy on the part of Kandla Port to dredge the navigational channel and provide committed draft has led to diversion of container vessels to Mundra Port, which has deep draft," Agarwal said.
The company, which is struggling to get its equipment worth Rs 140 crore (Rs 1.4 billion) from Haldia port after its exit there, says, "The failure of Kolkata Port Trust in allocating adequate cargo and ensuring a safe working environment are the main reasons for our exit."
Experts say while the Haldia exit is an aberration, the company cannot raise funds on its balance sheet. "Lending is difficult, as its projects are not doing well.
"Within the government, people don't have a favourable view on ABG, as there has been a loss of credibility," said a senior analyst on condition of anonymity.
Industry experts also say funding isn't easy for companies investing in the shipping sector.
For the quarter ended September, ABG Shipyard's net profit stood at Rs 33 crore (Rs 330 million), against Rs 48.4 crore (Rs 484 million) in the year-ago period.
The company is hopeful in the next two years it would start more projects and record less exits.
"We believe the growth in cargo throughput at ports would continue at a fast pace and, therefore, more mechanised capacity is needed.
"We have developed expertise in the redevelopment of existing infrastructure to unlock capacity and efficiency," Agarwal said.