Reliance Industries has told Gujarat that power consumers in the state may be laden with hefty bills due to power PSU NTPC's reluctance to buy relatively cheaper gas from it - a matter it had raised with the power ministry last month.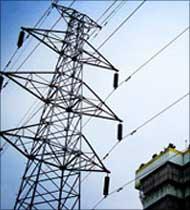 In a letter to the state principal secretary (energy and petrochemicals) S Jagdeesan on September 4, RIL executive director PMS Prasad said NTPC is currently buying natural gas on spot basis, which could potentially increase the cost of power by about Rs 1,500 crore (Rs 15 billion) per annum.
"...(this cost) will be passed on by NTPC to Gujarat Urja Vikas Nigam and other state electricity boards which buy power from NTPC," Prasad wrote to Jagdeesan, who is also chairman of GUVNL.
He said RIL was in a position to supply 100 per cent of the quantity of gas requested by power plants in Gujarat, but NTPC was reluctant to lift gas and discussions have been going for over four months.
NTPC had last week informed the stock exchanges that "with respect to allocation of KG-D6 gas... For NTPC's existing gas based power stations, various issues for signing with RIL have been resolved, except for one" and added it was "discussing with RIL for early resolution".
Prasad had last month complained to Power Ministry about NTPC's reluctance to sign an agreement to buy gas from it and said that the power PSU stands to lose Rs 15,000 crore (Rs 150 billion) on buying imported LNG.
"Purchase of six-seven mmscmd of RLNG (natural gas on spot basis) can potentially increase the cost of power by about Rs 1,500 crore per annum," Prasad wrote to Jagdeesan.
The government had allocated 2.67 million standard cubic meters per day of gas from RIL's eastern offshore KG-D6 fields to NTPC, but unlike the 35 other customers identified for the gas, the state-run firm is yet to sign a Gas Sales and Purchase Agreement.
"In our last meeting with NTPC on August 12, all issues relating to finalisation of GSPA were resolved and NTPC was to revert after obtaining internal approvals. However, we are still awaiting a formal response from NTPC in spite of regular follow-up," Prasad had written to power secretary H S Brahma on August 31.
RIL had agreed to sign the GSPA with the caveat that the agreements would be "without prejudice" to the outcome of the case in Bombay high court over a 2004 tender where the Mukesh Ambani firm had quoted $2.34 per mmBtu as price for gas to be supplied to NTPC's Kawas and Gandhar plants, he had said.