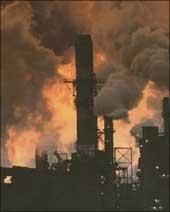 The Central Pollution Control Board has declared Gujarat as the most polluted state in India. The conclusion has been based on the increasing levels of pollution and toxic wastes.
There are seven states in the country that account for 80 per cent of the total hazardous wastes and among these Gujarat tops the list, followed by Maharashtra and Andhra Pradesh.
Even after being declared as the most polluted state, the Gujarat government has not taken any necessary measures to prevent the problem aggravating further, environmental activists say.
Criticising the state government for not taking any adequate remedial measures to tackle this problem, Mahesh Pandya, director of an NGO named Paryavaran Mitra (Friends of Environment), held the authorities and industrialists responsible for such an alarming polluted environment.
"There are six toxic waste sites in Vapi, two in Ankleshwar, one in Vadodara and one in Valadgaon. Even the government of Gujarat has recognised these waste sites. But till today the government has not mentioned anything to clear up these waste sites. So who are responsible ultimately," said Pandya.
"If we pursue the (Gujarat) state government, they ask the association of industries to clear it up. These associations say it's not their responsibility. Now the toxics are creating pollution and affecting the masses," he added.
People residing near the industrial estates have developed health and breathing related problems, the forum said. People have blamed the toxic smoke and wastes discharged by the factories.
"Because of the air pollution, the village environment is getting affected. Villagers have been here since ages but the industries were set up after a long period of time. We face so much difficulty. We cannot leave food in open or even the clothes outside for drying," said Kirit Patel, a resident of Narol industrial area.
"We are even becoming prone to breathing and health problems. Pollution is indeed a big problem," he added.
According to a recent report by the central government, Gujarat accounts for 29 per cent of the 6.2 million tonnes of hazardous waste, while it is 25 per cent in Maharashtra.
Andhra Pradesh is rated next with 9 per cent in generation of hazardous waste, followed by Rajasthan with 5 per cent and West Bengal and Tamil Nadu reckoned at 4 per cent each.