In a bid to give fillip to tourism in Gujarat, the state government has sent 34 proposals, including on development of integrated Mahatma Gandhi and Buddhist tourism circuits here, to the Centre.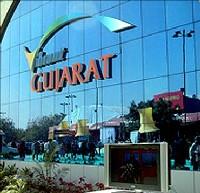 The proposals were sent in last three years seeking a combined grant of Rs 785.13 crore (Rs 78.5 billion) for projects including Gandhi and Buddhist tourism circuits, besides a Tourism Development Institute, Gujarat Tourism Minister Jaynarayan Vyas said.

"The Centre has so far supported our projects for tourism promotion on Dandi Heritage Route, Integrated Gandhi circuit, Dwarika, Tourism Development Institute and Kabir Vad in Bharuch, along the banks of river Narmada," Vyas said.

The state tourism department has proposed to develop Devni Mori in Sabarkantha, Taranga and Vadnagar in Mehsana as an integrated Buddhist circuit and asked the Centre for Rs 10.11 crore (Rs 101.1 million) in aid for it.

The state government has sought a grant of Rs 50 crore (Rs 500 million) for development of Integrated Gandhi circuit spread across Porbandar, Rajkot and Ahmedabad.

"As part of THE proposal for Gandhi Mega circuit, the Kirti Mandir birth place of Mahatma Gandhi in Porbandar's connecting link to Kasturba Memorial shall be re-developed," a state tourism department official said.

"A heritage walk route is also proposed to be developed in Porbandar as part of the mega circuit plan," the official said.

Basic facilities for tourism promotion shall be developed near Mahamta Gandhi Vidyalaya in Rajkot where the Father of the Nation had taken informal education and beautification of Gandhi Ashram in Ahmedabad shall be undertaken, Vyas said.

The Centre has so far allocated a grant of Rs 21.19 crore (Rs 211.9 million) for developing basic tourist facilities in Dwarka, town of Lord Krishna, Ambaji, a temple town, besides building infrastructure facilities in Tarnetar, Pavagadh, Devni Mori and Patan, an official said.

The state has forwarded a proposal to the Centre for integrated development of Dwarka seeking aid of over Rs 83 crore (Rs 830 million).

The plan is to renovate Dwarka, apart from development of sun set point, a bridge connecting Okha and Bet Dwarka.

"It has given an in principle approval for development of Kabir Vad in Bharuch district," Vyas said.

The state government has proposed to develop basic facilities like approach roads and food courts at Shukla Tirth, Angareshwar and Maglashewar along the banks of river Narmada with a combined cost of Rs 50 crore (Rs 500 million) as part of proposal for 'Kabir Vad'.

The state tourism department has exuded confidence that proposals for setting up a Hotel Management Institute in Patan, besides integrated Gandhi Mega Circuit will get central aid soon.