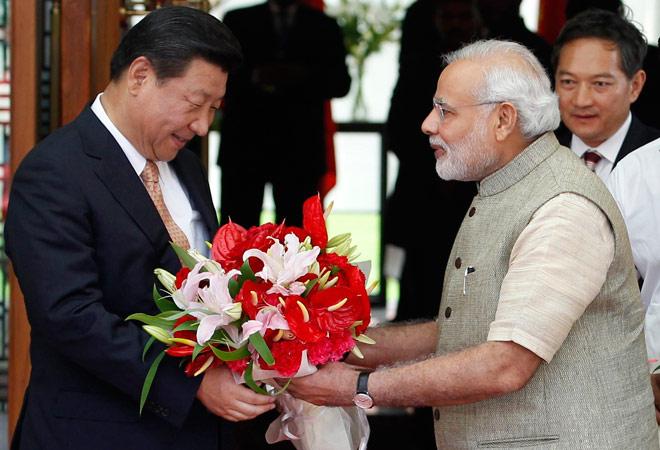 Image: Prime Minister Narendra Modi presents a bouquet to China's President Xi Jinping during their recent meeting in Ahemedabad. Photograph: PIB
Gujarat has emerged as a favoured investment destination for the Asian giants China and Japan.
While the recent visit of the Chinese president, Xi Jinping, has sparked off interest in probable new Chinese investments, investments from Japan have been flowing in for several years.
As early as 1999, Japan's Hitachi had set up Amtrex Hitachi Appliances Ltd (AHA), a joint venture with Gujarat-based Lalbhai Group, to make air-conditioners. (Hitachi later bought out its Indian partner.)

A major trigger that attracted Japanese investments was the announcement by Indo-Japanese car maker Maruti Suzuki India Ltd (MSIL) in June 2012 that it would invest in the Mandal region of the state. The announcement led a host of component makers to make a beeline for the state.
Around 60 Japanese companies now operate in Gujarat, and according to Japan's Ambassador to India Takeshi Yagi, the number will increase to 100 in a few years.
Companies like Honda Motorcycle and Scooter India (HMSI) and Honda Cars India Ltd, apart from their key vendors, have evinced investment interest in Gujarat. The state government is planning to develop a Japanese industrial cluster near the MSIL site at Vithlapur across 100 hectares.

Some companies, including a subsidiary of Mitsubishi Aluminium, are interested in investing.
Kenichiro Toyofuku, deputy director general of the Japan External Trade Organisation (JETRO), recently said that Japan plans to make Gujarat the biggest automobile hub in the country, perhaps bigger than the National Capital Region.
One major reason behind Japan's interest in Gujarat is that a major portion of the Delhi-Mumbai Industrial Corridor (DMIC) passes through Gujarat, opening up immense investment opportunities for Japanese firms, which primarily look at the available infrastructure when deciding to invest in a particular region.
Chinese companies' presence in Gujarat had grown steadily even before President Xi kicked off the signing of memorandums of understanding (MoUs) on his maiden visit to the state.

Chinese investment commitments, most of which came during Narendra Modi's years as chief minister, amount to Rs 9,000 crore, though actual investment so far has been just Rs 700 crore, the bulk of it in the power equipment industry.
Chinese firm TBEA Energy (India) Pvt Ltd has made one of the highest investment commitments, of Rs 2,500 crore, for building a Green Energy Park at Karjan near Vadodara. Another $200 million or Rs 1,200 crore is in the offing from a consortium of Chinese companies that visited Gujarat in mid-2014.
Representatives of the China-India Trade and Investment Centre (CITIC) said these Chinese companies had actually set a target for investing about $1 billion in Gujarat this year.
The consortium comprised 15 Chinese companies from Wengzhou in ZhejiangProvince, whose executives had visited Gujarat in search of fresh investment opportunities in sectors like automotive, IT software, real estate, construction, electrical appliances, medical equipment and waste management.
It is Sanand on the outskirts of Ahmedabad that is attracting the Chinese. Delegates from another group of Chinese companies that had visited with Chinese Foreign Minister Wang Yi had short-listed three locations - Sachana, Jakhwada and Dalsana - near Sanand for setting up industrial parks.
Three MoUs were signed during Xi's visit - one each providing for economic cooperation between Guangdong province and Gujarat, and between the cities of Guangzhou and Ahmedabad; the third was between China Development Bank and the Industrial Extension Bureau (iNDEXTb), the nodal agency of the Gujarat government, which will assist Chinese investors to obtain the required clearances and create infrastructure facilities in the industrial parks.
"Chinese investors will set up manufacturing units in the electrical, electronics, plastics and other sectors in these parks," a senior state government official said. State government officials estimate that Chinese investment commitments of Rs 6,000-7,000 crore may result over the next one year.