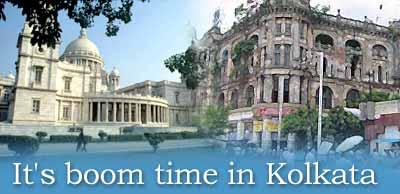 All of you who have old, fixed notions about Kolkata and West Bengal should pay the state a visit; it has more zip than you think. I have never seen the business mood in the city so buoyant, nor the news quite so upbeat.
There is new life in the markets for real estate, shopping malls and retail finance -- all of it telling us that people are spending more. Ask where the money comes from, and the answer is that there is momentum in software and BPO (18,000 jobs already created, and 10,000 new ones expected annually from now on), leather, toys, and food processing.
New industrial parks for the latter two industries have got snapped up in no time, as has space in an export zone for jewellery. Engineering is going through a huge revival because of new foundries that have been set up in the Durgapur-Asansol belt, partly to feed China's insatiable demand. It also helps that a showpiece project like the once-troubled Haldia Petrochemicals is now profitable.
There is money coming in from agricultural surpluses. And the city is reviving its role as the regional hub: people from the north-east, Bangladesh and elsewhere are coming over for education (there are some 40 new private colleges and institutes), medical care (the hospitals are expanding) and plain shopping (eight new malls planned, in addition to the three that have already opened).
The last week alone has seen delegations come visiting from Indonesia, Japan, Italy, Singapore and Bangladesh; next week will see one from China. The international lending agencies too seem to be keen on lending: Japan is financing four flyovers, Britain is paying for public sector restructuring (because there is an active programme to privatise, and shut down what cannot be sold), and the ADB wants to lend.
You can see the results in the usual secondary activities. The number of luxury hotel rooms has doubled in the last two or three years, but occupancy rates remain high. Thai wants to increase its Bangkok flights from three to seven per week; Gulf has started serving the city; Bangladesh's Biman will increase its daily service from two flights to three in the winter. Still, businessmen complain that they can't get seats out of Kolkata. And the media is a boom sector, with seven or eight Bengali channels. Clearly, there is advertising to go round.
But everything pales in the face of the real estate and construction boom (which is helping both the steel and cement industries). Satellite towns are coming up east and west of Kolkata, and others are springing up in places like Siliguri. Hundreds of acres are being developed, new highways laid down (including a smooth new by-pass from the airport), and bridges planned.
Fast new (or widened) roads are also planned in all directions: down to Haldia, and of course the national highways to Delhi, Mumbai and Chennai. Real estate developers now talk as they do elsewhere, in individual projects of a million square feet and more, some of it in the new towns and some on disused industrial land.
The biggest seems to be a 15-million square foot project planned on surplus Bata land. An Indonesian group is building a whole township, and the big builders from Delhi have now come rushing in -- and driven up prices in real estate auctions!
Ask why this new burst of activity has been triggered on such a wide front, and the general answer is that the chief minister has made a difference. There must be more to it than that -- like being within easy distance of vibrant East Asia when India is signing FTAs with countries there.
It is encouraging that even the old Kolkata city (still very battle-scarred) is getting a facelift: the riverfront is being re-developed, the corporation is discussing how to give the major buildings fresh coats of paint, the metro is being extended, and flyovers are everywhere.
There is no shortage of power and water, so the city is livable in ways that many others aren't. Businessmen say there is new momentum in the job market; two recruiters even said they can't get enough people and are beginning to shop in other cities, to fill jobs in Kolkata. That seems to say it all.
Powered by