Companies are seeing the cost of buying health insurance for their employees more than double, with insurers increasing the premium on group covers to partly cover mounting losses after they lost the option of cross-subsidising it with more lucrative property covers.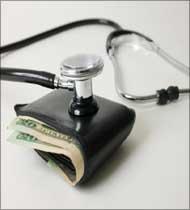 Insurance industry sources said one of the largest telecom service providers paid Rs 20 crore (Rs 200 million) to insure its employees in 2009-10 against Rs 9 crore (Rs 90 million) last year.
Similarly, a homegrown information technology and software development company saw its group health insurance premium increase 60 per cent to Rs 40 crore (Rs 400 million), while a mobile manufacturer's health insurance bill went up from Rs 4 crore (RS 40 million) to Rs 9 crore (Rs 90 million).
Premiums were raised even though the number of employees being covered was almost unchanged, since companies kept a check on fresh hiring.
The health insurance industry has seen claims outstripping premiums for the last two years. In 2008-09, for example, the industry generated premiums of around Rs 4,000 crore (Rs 40 billion), but saw a claims outgo of around Rs 5,600 crore (Rs 56 billion).
Before that, the group health covers were often doled out as freebies with property insurance, which covered the cost for both the policies.
But with tariff restrictions gone, general insurance companies have been forced to offer discounts of up to 80 per cent on property covers and as a result, the cross-subsidy for health insurance has vanished.
"There is no guarantee that the company will come back to you next year even if you bear the high claim. Also, there is no incentive to charge a lower premium, since health insurance is no longer cross-subsidised by property insurance," said the chairman of a public sector general insurance company.
To check the losses, insurers initially started charging for group health policies. Then came innovations such as getting the insured company to pay a part of the bill if claims crossed a certain level. Restrictions were also placed on coverage.
Part of the reason for the losses was the competition in the business that drove premiums down. There are currently 17 general insurance companies and two standalone health insurance firms that provide group health insurance policies.
"Earlier, companies were charging ridiculously low premiums. Whenever a new player comes in, it reduces the rates to get business. The premium on the group health segment is being corrected now. This should have happened two years ago. We have increased it 25 per cent, as our claim ratio was at 110 per cent," said Shreeraj Deshpande, head, health insurance, Bajaj Allianz.
"Group health insurance is linked to healthcare inflation. It increases almost twice every year. So, when the healthcare cost goes up, the premium also goes up," added Sanjay Sutta, head, health insurance, ICICI Lombard.
A global insurance broker with operations in India added that some insurers were not operating in the group health segment to check losses.
"This is a year of corrections. The risk is priced depending on experience and the insurer's relation with the client. Last year, health insurance premiums were grossly discounted but now insurance companies do not want the losses to rise. In some cases, the premium has increased100 per cent," said Rahul Agrawal, chief executive officer, Optima Insurance Brokers, a brokerage that deals in health insurance.