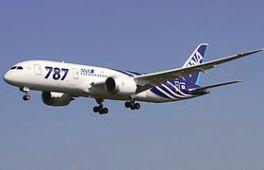 Air India's grounding of its Boeing-787 Dreamliners has already started adding to the airlines' fuel cost by around Rs 40 lakh (Rs 4 million) daily, apart from forcing changes in flight schedules, said a senior Air India official.

It has been a week since the United States' regulator, Federal Aviation Administration, asked airlines around the world to ground B787s due to battery problems.

"Though the upward movement of fuel bills is hardly one per cent of Air India's annual fuel bill of around Rs 6,700 crore (Rs 67 billion), prolonged grounding will definitely impact us.

The impact is not that much as AI has very limited international operations involving B-787s," said a senior Air India official.

Air India has six Boeing 787s and was operating them on three domestic routes (Bangalore, Chennai and Kolkata) and three international ones (Dubai, Frankfurt and Paris).

The airline is due to receive two more B787s
in January and February.
The decision to induct them will hinge on how the US aircraft maker addresses safety concerns.
The airline deployed a Boeing 747-400 plane on the Delhi-Dubai route and clubbed the Paris and Frankfurt routes using a Boeing 777.
The turnaround plan of the loss-making government carrier largely banks on the operations of medium-haul Dreamliners, as the plane is claimed to be 20 per cent more fuel efficient, and do away with a route and plane mismatch in Air India's operations.
Air India introduced the Boeing 787 on routes like Frankfurt because of better route economics. By deploying the B777 on these routes, the advantage of fuel efficiency is lost.
Though the civil aviation ministry has expressed that US manufacturer Boeing would have to pay compensation to Air India, the amount has not been decided.
"The amount of the compensation would take into consideration the number of flights, passenger load factor and average fares on those routes," said a senior civil aviation ministry official.