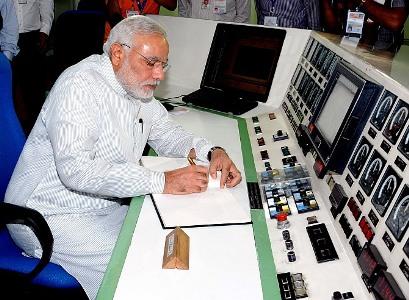 To reverse the brain drain of the past few decades and to bring back scientific talent, the Narendra Modi government has initiated talks with many eminent non-resident Indian scientists, who left the country to pursue research overseas.

The Ministry of Science and Technology has approached about a dozen well-known scientists from across the world in an effort to bring them back to various departments under the ministry, said Jitendra Singh, minister of state (independent charge) for science and technology.

According to Singh, the government is trying to facilitate and create a conducive environment along with social infrastructure to attract the scientists who had left the country many years ago for various reasons.

These scientists, mostly coming back through different government fellowships, will be inducted in various reputed institutions and departments, including the Council of Scientific & Industrial Research, Jawaharlal Nehru Centre for Advanced Scientific Research, Bose Institute and many other research centres, mainly those funded by the government.

According to K Vijay Raghavan, secretary (additional charge) to Department of Science and Technology, the department has constituted two different re-entry fellowships -- Ramalingaswami and Ramanujan fellowships -- under which scientists are coming back and taking up projects in India.

The ministry plans to float more such fellowship going forward and create a conducive environment to hold back such talent on a permanent basis, Singh added.

A senior official from the Ministry of Earth Sciences said most scientists who have been shown interest in coming to work in India are from reputed universities and many of them have shown interest in participating in projects run by India Meteorological Department.

Most of them want to work in India on a temporary basis, the official clarified.

DST is also in talks with various domestic as well as multinational pharmaceutical companies to partner for research in the area of drug discovery.

"We are trying to involve the industry at two levels. One, we are in talks with some companies on projects where they can take care of the funding part.

"Secondly, there are also companies which have their own research and development wings.

"So, we are discussing if we can collaborate with them and take the research forward," said Singh. He added that government institutions, which were so far focused on researching on India-centric diseases such as malaria, tuberculosis and vaccines, are now looking at lifestyle diseases including diabetes, cardiovascular and cancer.
Singh was speaking at a function of his ministry to sign a Memorandum of Understanding with All India Institute of Medical Sciences to partner for furtherance of cancer research.
Image: Narendra Modi signing the visitors' book during his visit at the Bhabha Atomic Research Centre Photograph: Press Information Bureau
The image is used for representational purpose only