New schemes allows consumers without Aadhaar to receive cash directly in their bank accounts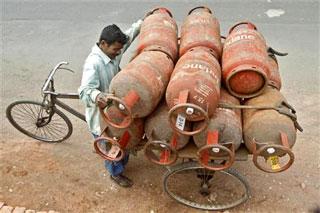 The government is to launch the modified version of the Direct Benefit Transfer scheme (DBT) for Liquefied Petroleum Gas (LPG) in 54 districts across the country from Saturday.
The government hopes to cut down on large scale diversion of subsidised domestic cooking gas that does not make Aadhaar number mandatory.
Earlier version of the scheme that was rolled out by the previous UPA government in June 2013 had to be stopped after the Supreme Court observed that Aadhaar numbers cannot be made mandatory for for availing the scheme. By that time, the scheme was already rolled out in 292 districts.
"In the 54 Districts covering 11 states, the scheme will cover 2.33 crore households. Currently, the Aadhaar generation level in these districts is 95 per cent," said an official release.
Under the new scheme, consumers without Aadhaar numbers can receive cash directly in their bank accounts. However, they may have to shift to Aadhaar-based cash transfer when they get Aadhaar.
Also, consumers who are not Cash Transfer Compliant (CTC) will get a three-month grace period during which they will receive the cylinders at subsidised rates. After the grace period lapses, they will get an additional parking period of three months after which they will have to buy cylinders at the market rate that is non-subsidised rate.
If the consumer joins the scheme within the Parking Period, the subsidy as per entitlement and consumption during Parking Period will be transferred to their bank account.
In order to ensure the LPG consumers have extra cash to pay for the first LPG cylinder at market price, a permanent advance will be paid to consumers as soon as they make the first booking for a cylinder after joining the scheme.
The government requested the consumers to get their Aadhaar numbers linked with LPG distributors and banks. Consumers without the numbers need to either give their bank account details to the Oil Marketing Company (OMC) distributoror or give their 17-digit LPG identification number to their banks.
Under the new scheme, consumers will receive text messages at every stage of enrollment in the scheme.
"We have already sent over 3 crore messages to consumers. We want to ensure smooth running of the scheme in the first phase before its nationwide rollout by January 2015," saida senior petroleum ministry official.
The proposal to restart DBT in LPG was part of the official announcement at the launch of Prime Minister's Jan Dhan Yojana in August. Under the previous avatar of DBT-LPG scheme, the government had transacted over Rs 5,000 crore (Rs 50 billion) to beneficiaries using Aadhaar.