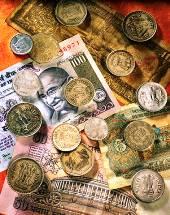 The government's disinvestment plan for the current financial year is set to gather pace with the decision to bring the initial public offer of Rashtriya Ispat Nigam Limited in the second half of July.

That will be accompanied by the initiation of the consultation process for stake sales in about half a dozen public sector companies.

A senior official from the Department of Disinvestment told Business Standard it was decided in a meeting on Thursday that the fresh date for RINL's IPO would be in the third or fourth week of July.

He said the consultation process to obtain Cabinet approval for the stake sales would also be started simultaneously.

The companies involved are SAIL, Nalco, BHEL, Hindustan Copper, Neyveli Lignite, Rashtriya Chemicals Ltd and Oil India.

Considering the volatile market conditions, the RINL IPO was delayed on the advice of merchant bankers.

The issue was slated to hit the domestic market on July 3 and kick-start the disinvestment process for 2012-2013.

The Cabinet Committee on Economic Affairs in January had approved disinvestment in RINL.

The government aims to raise Rs 2,500 crore (Rs 25 billion) by divesting 10 per cent stake out of its 100 per cent holding in
the company.
The official said the companies that had been picked for the consultation process were part of the government's long list for divestment, which also included NHPC, NMDC, MOIL and Hindustan Aeronautics for a 10 per cent stake sale.
The road map for the full year prepared by the finance ministry targets the NMDC disinvestment to yield Rs 6,000 crore (Rs 60 billion), NHPC Rs 230 crore (Rs 2.3 billion) and MOIL Rs 395 crore (Rs 3.95 billion).
The 10 per cent stake sale in Nalco is expected to bring about Rs 12,000 crore (Rs 120 billion).
In Hindustan Copper too, the government would divest 10 per cent stake.
The plan for SAIL includes a five per cent government stake sale and the company coming out with a fresh issue of the same quantum.
The five per cent stake sale in BHEL is estimated to fetch nearly Rs 3,000 crore (Rs 30 billion).
The government in Budget 2012-13 proposed to raise Rs 30,000 crore (Rs 300 billion) in the current fiscal from the sale of its equity in PSUs.
Among other companies in the pipeline, a 10 per cent stake sale in Engineers India could yield about Rs 790 crore (Rs 7.9 billion), a 12.5 per cent stake sale in Rashtriya Chemicals Ltd is expected to yield Rs 380 crore (Rs 3.8 billion) and Andrew Yule is estimated to yield Rs 65 crore (Rs 650 million).