The government has rejected global financial services provider Goldman Sachs' proposal to give it a blanket approval for any further investment in non-banking financial activities in India.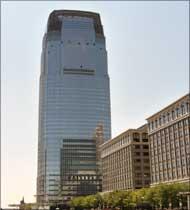 Goldman Sachs (Mauritius) NBFC LLC has committed investment of around Rs 2 lakh crore (Rs 2 trillion) in its NBFC activities in the country.
The Mauritius subsidiary of the US-based global financial services firm has sought the waiver of the condition of Press Note 1 of 2005, which mandates that a company would be required to obtain a No Objection Certificate from joint venture partners for carrying out similar activities.
The government has rejected the proposal on the recommendations of the Foreign Investment Promotion Board, as per an official statement.
According to sources, the Department of Revenue has opposed the proposal on the ground that a blanket approval would mean approval for treaty shopping, which means that companies route their investments from the countries like Mauritius with which India has double taxation avoidance agreements for taking tax advantages.
The Mauritius-based subsidiary of the US company earlier had two joint ventures with Kotak Securities and Kotak Mahindra Capital Company, but the JVs have been terminated after Goldman Sachs sold its entire stakes.
The two firms also gave Goldman Sachs No-Objection Certificate to carry out NBFC activities in India.