Work to go on in 5 of the 50 places identified in 2013; new criteria mooted for viability study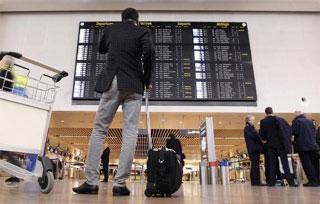 The present government has decided to put on hold the previous one's ambitious plan of developing low-cost airports in non-metro cities.
However, of the 50 centres identified by the United Progressive Alliance government in 2013, work will continue on five low-cost airports -- in Karnataka, Rajasthan, Arunachal Pradesh and Odisha -- where construction has already been sanctioned.
"The plan to develop the no-frills airports has been put on hold due to lack of commercial viability.
"Work has been processed for only (these) five airports.
"In many cases, the government had given approval to states in writing and even completed the land acquisition process," said a ministry official who did not wish to be named.
Also, the official added, the government had set a new criterion that a minimum population size of one million would be the basis for selection of towns where these new airports would be constructed.
It will look into the financial viability of setting up such airports in non-metro cities before considering new proposals.
The development comes in the wake of a delay in the government's plans to privatise four airports -- those in Ahmedabad, Chennai, Jaipur and Kolkata -- after opposition from employees at these airports over changes in their service conditions because of such a move.
According to the latest Census estimates, 44 cities in India had a population of at least one million in 2011. Of these, 13 (seven in Maharashtra) have no airports at present.
Some have welcomed this shift in the government's stance.
"Till the structural problems of high aviation turbine fuel cost, high taxes on aircraft maintenance, and lack of direct subsidies at regional airports, are not addressed, there is no point building more airports.
These will be white elephants and a drag on the profitability of the Airports Authority of India.
"Private-sector airport operators and airlines will anyway stay away from such airports," said Amber Dubey, partner and India head of aerospace and defence at global consultancy KPMG.
Dubey, however, added that population should never be a factor in opening a new airport. "Population is never a criterion.
"Per-capita income and opportunities in business and tourism are what drive air traffic. "That is why we have four international airports in tiny Kerala and very few in Uttar Pradesh and Bihar," he said.
In potential areas where the initial traffic was supposed to be low, the airport and airlines could be subsidised jointly by the central and state governments, he suggested.
The previous government had in June 2013 decided to build low-cost airports at 50 cities and towns of Assam, Jharkhand, Bihar, Punjab, Uttar Pradesh, Arunachal Pradesh, Rajasthan and Maharashtra.
This was aimed at enhancing connectivity in regional and remote areas, mainly in Tier-II and -III cities.
The Narendra Modi-led government at the Centre at present had during 2014-15 started work on five of the proposed airports -- at Hubbali (earlier Hubli) and Belagavi (earlier Belgaum) in Karnataka; Kishangarh in Rajasthan, Jharsuguda in Odisha and Tezu in Arunachal Pradesh.
The two in Karnataka were already operational and had been identified for upgrade.
The cost of developing each of these airports was estimated at Rs 100-150 crore (Rs 1-Rs 1.5 billion).
State governments were to provide the land required for building or expansion, at low or no cost, and to develop road and electricity connectivity.
The government's latest move is contrary to the aim of its recently proposed policy on domestic and international flying.
The aviation ministry has linked permission for an airline to ply abroad with its operations in remote and regional areas.
Flight curtailed
The United Progressive Alliance govt had identified 50 non-metro and remote towns where no-frills airports were to be developed
States were to make available free/cheap land, roads and power. Cost of building each airport was to be Rs 100-150 crore (Rs 1-Rs 1.5 billion)
After coming to power at the Centre last year, the present govt had first decided to develop five of the 50 proposed airports in Phase-I
The government has now decided to put on hold the plans to develop the proposed low-cost airports, except the five taken up in the first phase
A new criterion mooted in this regard, the minimum population size for a place to have a low-cost airport will be fixed at one million
The image is for representational purpose only