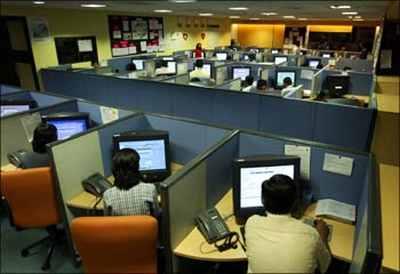 The central government is working on a proposal to incubate product companies in the electronics sector.
Titled ElectropreneurPark, it is being anchored by Software Technology Parks of India (STPI), which played a big role in incentivising and nurturing the information technology (IT) services sector in its initial years.
An incubation centre for electronics start-ups is planned for the National Capital Region, with a target of nurturing 10 companies every year over the next five years.
The proposal, made by STPI in collaboration with DelhiUniversity and India Electronics and Semiconductor Association, is close to being approved by the department of electronics and information technology, say officials.
"The (incubation) centre aims at providing budding entrepreneurs with tools that are generally very expensive," said one official, requesting not to be named.
The Centre will not only provide the infrastructure but enable access to domain experts, mentors, shared consultants and services.
It will also help innovators seek funding from foreign investors, venture capitalists and angel investors, added the official.
STPI has proposed another incubation centre for companies in fab-less (fabrication-less) design or semi-conductor chip design in Bangalore. However, the NCR centre is closer to being approved, said another official.
Under its National Electronics Policy, the government has launched various schemes to push domestic manufacturing of electronics.
According to estimates, India would require $400 billion worth of electronics by 2020, most of which would be imported if domestic manufacturing is not incentivised. In which case, the country's electronics import bill will exceed that of oil.
Faisal Kawoosa, lead analyst at CyberMedia Research, said such a centre will enable building blocks for developing product technologies.
"The fact that experts from technical, academic and business will provide hand-holding to these entrepreneurs will make sure the solutions developed are robust and industry-friendly."
A board of all stakeholders such as the government and the industry, as well as academia, will shortlist the candidates and run the programme.
To nurture the start-up system in the country, industry body Nasscom launched 10,000 Start-up Programmes a year before. So far, the programme has processed a little over 700 applications.
The department of science and technology, Technopark Trivandrum and MobME Wireless have jointly promoted StartupVillage, a technology business incubator in Kochi. S Gopalakrishnan, co-founder of Infosys, is chief mentor there.
The central government set up STPI in the early 1990s to provide support to the software exports sector, then in its infancy. The body provided physical as well as technology infrastructure to software start-ups, along with tax sops.
Deductions under the Income Tax Act were phased out a few years ago, after it was decided the industry had attained a certain maturity. By repeating the software model for product companies in the electronics sector, it is hoped STPI will also be able to reinvent itself.
Mission Electropreneur
* Incubation centre for electronics start-ups in National Capital Region
* Centre to give infra support, access to domain experts, mentors, shared consultants and services
* Help for funding
* STPI has proposed a centre in fab-less design or semi-conductor chip design in Bangalore
* India may need $400 billion worth of electronics by 2020