Slots, parking bays unavailable at major airports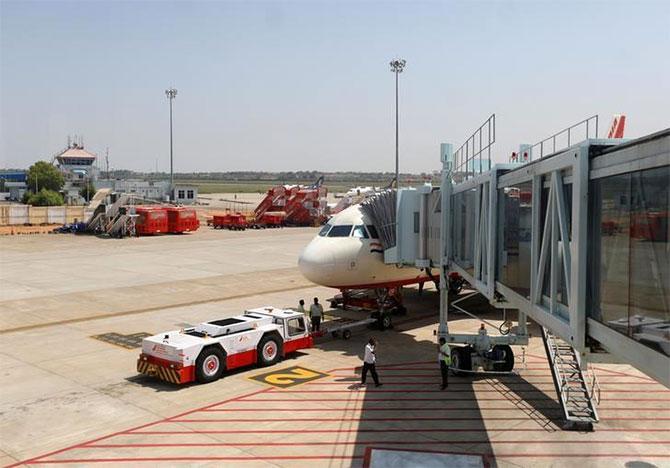 Airlines have asked the government to reopen old airports to ease congestion at existing ones.
The civil aviation ministry is considering reopening the HAL airport in Bengaluru and Begumpet airport in Hyderabad.
Airlines have told the government there is a shortage of slots and overnight parking bays at most major airports and have suggested smaller nearby airports be used as alternatives beyond watch hours.
Among the airports suggested are Nagpur and Aurangabad for Mumbai, Agra for Delhi and Arakkonam for Chennai.
"There is an acute shortage of slots and parking bays at most airports. We did not get preferred slots at most major airports for the summer schedule. In some airports, it has become difficult to find empty parking bays," said an executive with a private airline.
Another airline executive pointed to the runway closure at Bengaluru early this year.
"Our schedules go awry, the frequency of flight has to be cut, there is loss of business," he said.
The Begumpet and HAL airports were shut by the government after new airports became operational in Hyderabad and Bengaluru.
Agreements signed with promoters of the international airports in these two cities restrict operation of airports within 150 km.
The Rajiv Gandhi International Airport in Hyderabad is managed by GMR and GVK recently sold its stake in Bengaluru International Airport to Prem Watsa's Fairfax group.
Spokespersons of the two companies did not respond to queries but executives said there was no need to reopen old airports as expansion work was under way.
"A Rs 2,500-crore expansion plan will increase capacity by almost 25 million," a GMR executive said. A Bengaluru International Airport executive said work was on for building a second runway and a new terminal.
"This will enhance capacity to 35 million by 2020-21," he said.
A 20 per cent annual growth in passenger traffic has led to a capacity crisis at major Indian airports. Aviation consultancy CAPA says six major Indian airports will run out of capacity by 2025.
Civil aviation ministry officials said land acquisition was a big a hurdle in building new airports.
A new law makes make land acquisition very expensive. While airports are a central subject, they are built on land acquired by state governments.
Civil Aviation Secretary Rajiv Nayan Choubey said the Centre was preparing a template for land pooling for new airports.
Photograph: Danish Siddiqui/Reuters