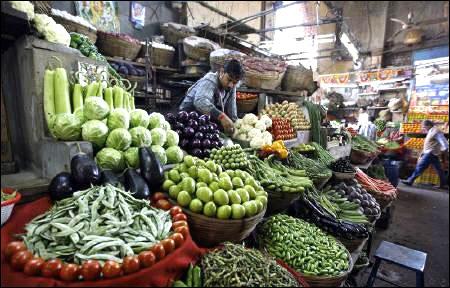 To curb rising food prices, the Union government is contemplating using large-scale nuclear irradiation technology for increasing the shelf life of fruit and vegetables, particularly that of onions and potatoes.
Extended shelf life will enable the government to meet its supply shortage during lean seasons.
"In between July and October, we face shortage of onions, potatoes and tomatoes, due to which we need technologies that can increase the shelf life by at least six months. We saw a presentation by Bhabha Atomic Research Centre (BARC) on how application of radiation technology improved the shelf life of onions and potatoes," Food and Consumer Affairs Minister Ram Vilas Paswan said.
Transport Minister Nitin Gadkari, Agriculture Minister Radha Mohan Singh, Minister of State (Independent Charge) for Development of North Eastern Region, V K Singh, along with ministers of state for food and agriculture participated in the meeting.
Secretaries of all the departments were also present in the meeting.
Paswan said the government might look at establishing such irradiation plants alongside Central Warehousing Corporation and Food Corporation of India warehouses mainly those situated around metro cities.
"We have instructed all the secretaries to hold further discussions with scientists and officials from Bhabha Atomic Research Centre and department of atomic energy to take forward this expansion plan," Paswan said.
Former chairman of Atomic Energy Commission Anil Kakodkar, present in the meeting, said there are two plants in the government sector which use irradiation technology.
The first is in Vashi for spices and the second in Lasalgaon for onions, apart from 10-12 such units in the private sector but most of these are small and suffer from lack of economies of scale.
"We can make storage through this technology and ensure supplies during the lean season," Kakodkar said. On the question of safety and regulatory issues arising due to use of nuclear radiation in fruits and vegetables, Kakodkar said this technology has been approved by the Atomic Energy Regulatory Commission and there are no safety issues whatsoever.