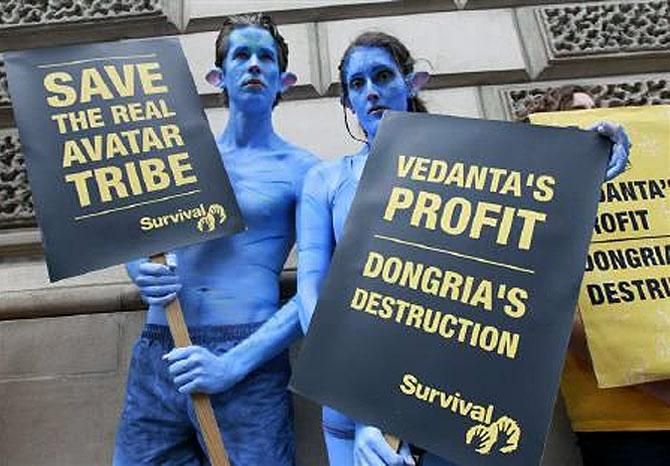 The Narendra Modi-led government has issued around 50 fresh guidelines easing conditions for industry in about six months, beside launching an online system for applying environment clearances.
The Union environment ministry has been working overtime ever since the National Democratic Alliance (NDA) government came to power at the Centre, to ease the investment climate.
The initiatives have made environmentalists wary but the industry is slowly securing changes that it had asked for.
The Narendra Modi-led government has issued around 50 fresh guidelines easing conditions for industry in about six months, beside launching an online system for applying environment clearances.
In short, it has set the ball rolling for ushering in industry-friendly reforms.
The Bharatiya Janata Party (BJP) often blamed the United Progressive Alliance (UPA) regime for delay in projects, policy paralysis and stringent green norms, which it claimed, acted as a block to economic growth.
Union Environment Minister Prakash Javadekar, while stating the ministry's 100 days' progress, had said, "We are doing what the UPA government didn't do."
Process of environment clearance decentralised to authorise states and forest bureaucrats to give green nod in certain commercial and prospecting cases.
To deal with the power crisis that happened soon after it took charge, the government did away with the primary requirement of holding a public consultation in case of expansion of output for coal projects.
The Union environment ministry also allowed group clearances for Coal India mines rather than examining individual project proposals in the vicinity.
The government explained that these moves were a step towards enhancing coal production for boosting power supply in the country.
The Centre has also been quick to react to changing circumstances. For instance, with the latest Supreme Court order, cancelling coal block allocations, the fate of more than 200 mines was left hanging, as it wasn't clear whether the companies would have to re-apply for green nod.
However, the ministry has decided to transfer all existing environmental clearances of cancelled coal blocks to new allottees once the auction is completed.
Changing clearance dynamics
To increase transparency through Modi's e-governance model, MoEF has launched an online monitoring system for project developers. Thus, a project proponent will not have to visit the ministry office to apply for green clearance.
Javadekar, in fact, once said, his ministry is not playing Office Office (a satirical TV serial) anymore and has simplified the procedure of applying for environment and forest clearances.
It gave yet another pro-industry signal and allowed project developers to be present at the Forest Advisory Committee meetings to present their case while their projects are appraised.
Chandrajit Banerjee, director-general at Confederation of Indian Industry (CII), says, "Some of these changes can potentially reduce the delays in grant of clearances and we hope that the implementation of these changes will be fast and effective."
The tinkering with norms, rules and regulations has its limit. The government has also established a high-level commission to look into amending six green laws. The committee is expected to come up with its suggestions by November-end.
No land hassle
The Centre has relaxed all rules from a project's primary phase to the last one. For instance, land acquisition used to be a big hindrance for any project developer and it used to take years to complete the process.
After this, the file comes to the ministry for clearance. The Centre relaxed the rules by allowing project proponents to give proof of initiation of land acquisition instead of going for full acquisition, which included, in some cases, a letter of consent from the land owner.
To facilitate easier land acquisition in forest areas, the government is also contemplating doing away with the need for consent of gram sabhas entirely. It has already done so for prospecting of minerals and some other activities such as linear projects.
This, however, could have a negative impact, according to environment activist Aruna Chandrasekhar, Business and human rights researcher at Amnesty International India cautioned, "Some of the amended laws fall short of international standards on consultation and consent, and could further marginalise vulnerable communities who seldom have a voice in decisions taken around their lands and resources," she said.
Easier public dealing
Once a project developer acquires land, he sends relevant information about his proposal to set up a factory to the Centre. The first stage for green clearances starts with screening, which determines if a project requires further environmental studies for preparation of an Environment Impact Assessment.
Environment study is a mandatory exercise, which takes into account all concerns and becomes the basis for a green nod. The government has curtailed powers of the expert committee and told them not to ask for additional studies to review site-specific impacts of the projects on environment.
After screening, public consultation is done with the locally affected people. A project developer convinces the stakeholders about the need to take away the land and about rehabilitation.
However, in many cases, this process has been done away with, too. During appraisal of a project, the expert panel reviewing it stipulates several conditions on the developers while giving the green nod.
The non-fulfilment of these conditions might attract heavy penalty or even cancellation of the project. However, the government has made life easier for industries as it has told its Expert Appraisal Committee not to impose conditions "beyond the control" of the project proponent.
The Centre has also moved towards decentralising the process of environment clearance. In wildlife areas, it has allowed project proponents to carry out preliminary surveys after securing the approval of the forest officer (chief wildlife warden), instead of approaching the Centre, and, subsequently, seeking the nod of the National Board for Wildlife (NBWL).
Similarly, the lower-level forest bureaucrats can give forest land to miners if the project is "temporary in nature" and does not require felling of trees. Commercial projects (in and around wildlife sanctuaries, national parks and eco-sensitive zones) will need an environment clearance from the state environment impact assessment authority alone and a nod from the Centre under the Environment Protection Act, 1986, won't be required.
Key Decisions
Around 50 fresh guidelines issued, easing conditions for industry
Online system for applying environment clearances launched
Primary requirement of holding public consultation in case of expansion of coal projects done away with
Project proponent will not have to visit ministry to apply for green clearance
Consent of gram sabhas done away with for prospecting of minerals