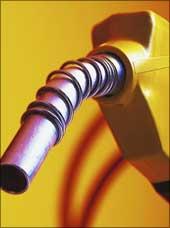 The government has constituted a Group of Ministers, headed by Finance Minister Pranab Mukherjee, to resolve issues over mixing ethanol extracted from sugarcane in petrol.
The five-member Group of Ministers (GoM) also include Agriculture Minister Sharad Paward, Heavy Industries Minister Vilasrao Deshmukh, Petroleum Minister Murli Deora and Chemical and Fertiliser Minister M K Azhagiri, official sources said.
The GoM was necessitated because of the differences among ministries over mandatory blending of ethanol in petrol.
While the agriculture ministry wants the 5 per cent doping of ethanol in petrol to be implemented in letter and spirit, Azhagiri's ministry had opposed mandatory mixing as it jeopardised the interest of industrial alcohol consumer.
Both ethanol and alcohol are made from molasses.
Sources said the GoM comes within days of the petroleum ministry being forced to withdraw its note for Cabinet that proposed to raise price at which oil firms bought ethanol to Rs 27 per liter from Rs 21.50 a litre, to lure producers to sell ethanol for doping in petrol.
The petroleum ministry had not been able to implement the 2007 decision of mandatory doping of 5 per cent ethanol in petrol due to non-availability of the product from producers.
A price increase was supposed to lure the producers into selling ethanol to oil firms, but the chemical and fertilizer ministry protested saying petrol-doping programme will impinge upon the demand of potable liquor sector and chemical makers.
Sources said the Prime Minister's Office put the oil ministry's note on back burner and asked the Cabinet secretary to resolve issues.
A GoM has been constituted in this backdrop, they said.
Potable liquor sector and chemical producers are two primary consumers of molasses-based alcohol. In 2008-09, the potable liquor sector consumed 1,000 million litres of alcohol while only 300 million litres was left for others to use.
Five per cent ethanol-blending programme would require 680 million litres of alcohol.
It was stated that the demand for potable sector was increasing and there was no justification to increase ethanol price to Rs 27 per litre.
Domestic sugar output fell from 26.3 million tonnes in 2007-08 to 14.7 million tonnes in 2008-09. The dip has resulted in a significant decline in availability of molasses -- the raw material for alcohol.
The availability of alcohol dipped to 1,300 million litres from 2,200 million litres in the same period.
Sugar output and alcohol availability in 2009-10 is expected to be same as last year.