Demand for gold is set to pick up, after a two-month lull, with the onset of the festival season, starting with Raksha Bandhan on August 24, and extending till Dhanteras in November, the single-biggest gold buying day.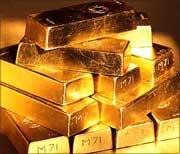 Gold sales in India generally decline around 60 per cent during June 16-August 15, as retail consumers abstain from fresh purchases. The yellow metal sales declined in a similar pattern this year, said Prithviraj Kothari, director of Ridhi Sidhi Bullion, one of the country's largest bullion traders.
Most important, price-conscious consumers respond to price volatility and abstain from purchases if the price hits weekly peaks and troughs.
But now, consumers were used to seeing higher prices and selling at the current level would not be difficult during this season, said Kothari.
Reflecting this, gold imports in India are estimated to have declined by 50 per cent to 30 tonnes during June-July, compared to approximately 60 tonnes in the comparable period last year.
Since the main gold consuming class, farmers, require fresh money to buy high-yielding seeds during the kharif season, scrap sales generally increase at this time of the year. As a result, scrap availability has almost doubled.
To lure customers at higher prices, RSBL plans to launch electronic trading of pure gold bars between 1-15 gram. Available for the first time in the country, the platform will allow traders to buy and sell on a single platform, where gold bars will be bought from RSBL and also sold to it with a jeweller's certificate, free of charge.
For buyers, delivery is allowed anywhere in the country on a T+2 basis. RSBL will deliver gold bars through its branches, wherever they are available. But in case of remote trading, the company proposes to tie up with local jewellers for gold bar delivery.
The company proposes to sell gold bars in tamper-proof packing, along with a random purity check certification from the Reserve Bank of India, besides weight and other assurance from it.
Other retail jewellers are also working to introduce new coins and bars for investment. They are also planning to introduce more ethnic designs during the forthcoming season.
"Consumers are aware that volatility in prices is likely to continue. Hence, high prices will not be a problem this year," said Ketan Shroff, partner with Pushpak Bullion, a Mumbai-based bullion trader.