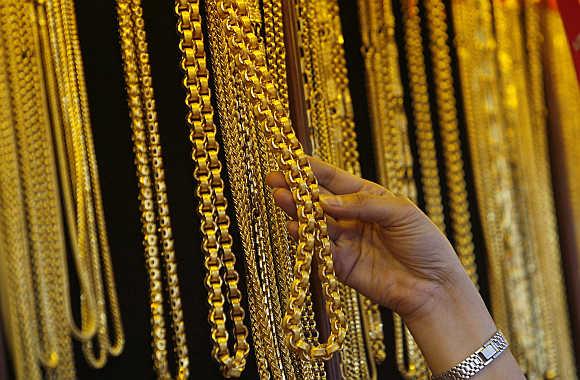 Gold prices in the country may even dip to Rs 20,500 per ten grams, a level last seen about 5 years ago, in case of a rate hike by US Federal Reserve later this year, according to India Ratings and Research (Ind-Ra).
Maintaining the negative outlook on gold prices for the current fiscal, the rating agency said domestic rates may decline and range between Rs 20,500-Rs 24,000 per 10 grams if the US Fed hikes interest rates, as widely expected. It also added global prices of the precious metal could drop and stay in the range of USD 900-1,050 per ounce.
"Till such time the uncertainty around global growth is reduced, the chances of international gold prices falling below USD 900 ounce corresponding to pre-2009 levels are remote," Ind-Ra said.
The prices of gold, which is considered a hedge against an economic uncertainty, may weaken with the expectation of an increase in the US real interest rates.
"US real interest rates and gold prices have also more or less remained negatively correlated, similarly gold prices and the dollar index historically have a negative correlation, but there have been occasional bouts of a positive correlation for a short term," it added.
On demand side, the rating agency said China and India form close to half of the total world demand for gold and they have been maintaining their pace of purchases around the 2011-2012 levels.
"China and India however showed some diverging trends in 1Q15; consumer demand in India rose 15 per cent Y-o-Y while it declined 8 per cent yoy in China. Investment demand in India however is down to a six-year low," the agency added.