Gold futures for February delivery closed at in the red on weekly basis after reaching a record $1,432.50 an ounce on December 7.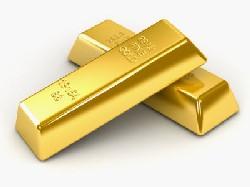 This week, the gold dropped 1.51 per cent or $21.30, the most since mid-November on concern that China may tighten monetary policy eroded demand for precious metals.

China, the world's second-biggest gold buyer, ordered lenders to park more money with the central bank for the third time in five weeks.

A rate increase by China's central bank "would diminish the ability of Chinese consumers to use excess income on investments like gold, as well as their ability to buy other commodities," said Tom Pawlicki, an analyst at MF Global Holdings Ltd. in Chicago.

Gold lost some safe-haven appeal last week as euro zone debt concerns were placed on the back burner and investors focused on US economic fundamentals in a thinning market.

With the 4 per cent decline in gold over its peak level of $1432.50 on December 7, gold holdings in the SPDR Gold Trust, the biggest exchange-traded fund backed by bullion, decreased 8.20 metric tons to 1,289.83 metric tons as of December 10, according to figures on the company's website.

The gold February futures also witnessed drop in weekly volume by 12.7 per cent to 900,869 contracts as participants preferred to stay away as gold futures declined 4 per cent from high of $1432.50.

The open interest (OI) in February futures decline by 11,712 contracts as speculators preferred to book profit. The weekly market picture (MKTP) chart suggests strong sell-side trades in February futures above $1,402.

The value area (1,383-1-1,415) saw 57 per cent volume and 75 per cent price opportunities mostly through change of hands which is hinting at rejection of price level by volume buyers.

The initial balance range (1,402-1,415) saw 12.6 per cent volume which indicates a complete rejection of price level.

The time-price opportunities (TPO) data for the Friday session indicate resistance for gold above $1,410.25 while volume based support is expected to come around $1,367.75.

On the weekly basis, the gold poised to fall around $1,340, the TPO and volume picture chart suggest.

The options participants sold $1,380-strike call options of January expiry for $21 premium while they $1,350-strike put options of the same series for $21 premium.

On the Multi-commodity Exchange (MCX), the gold futures for February delivery expected get support of Rs 20,170 and likely to face resistance at Rs 20,730, the weekly MKTP chart source from Bloomberg suggest.