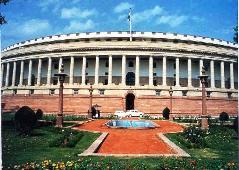 The report of Parliament's standing committee on agriculture and genetically modified crops has asked for an end to all field trials for these.

"Further research and development on transgenics in agricultural crops should only be done in strict containment, and field trials under any garb should be discontinued forthwith," it has said.

The reasons included "concerns regarding India being one of the richest centres of bio-diversity, the irretrievability of transgenic crops once released in the environment, effects on environment, human health and livestock and animal health".

Also, "the gross inadequacy of the regulatory mechanism, the total absence of post-release surveillance and monitoring".

The panel also wanted a thorough probe into the case of GM brinjal (also termed Bt brinjal) from the outset up to the imposing of a moratorium on its commercialisation by the then minister of environment and forests on February 9, 2010.

It wanted a team of scientists and environmentalists to do this.

The committee, in this context, referred to a confession of the co-chairman of the Genetic Engineering Appraisal Committee (Arjula Reddy) "that the tests asked for by Dr P M Bhargava, the Supreme Court nominee on the GEAC for assessing Bt. brinjal were not carried out and even the tests undertaken were performed badly and that he (Reddy) had been under tremendous pressure, as he was getting calls from industry, GEAC and the minister to approve Bt. brinjal".

The panel questioned
the approval system for GM crops. and said it had "noticed several shortcomings in the functioning, composition, powers, mandate, etc, of GEAC and RCGM (Review Committee on Genetic Modification) in their regulatory role.
Noting these two entities were under the jurisdiction of its counterpart, the standing committee on science and technology, environment and forests, the panel requested the former to take up GEAC and RCGM for an "in-depth and comprehensive examination and report to Parliament".
Basudeb Acharia of the CPI(M), who chaired the 33-member panel, said the report was a unanimous one and all recommendations were equally important, though he emphasised the one on the need for a Biosafety Authority.
Maharashtra government has cancelled the licence of agriculture seed major Mahyco, to sell Bt cotton seeds in the state, following complaints.
Minister for Agriculture Radhakrishna Vikhe Patil said the state government was left with no option but to cancel the company's licence, given the serious nature of the complaints.
"The government has cancelled the licence of Mahyco to sell with immediate effect," Pune-based state Agriculture Commissioner Umakant Dangat told PTI over phone.
"We were hearing several complaints against them from last 2-3 years.
They did advance booking but did not supply seeds. Last year, there was an acute seed shortage in the state," Dangat said.
Mahyco did not give us its seed distribution programme for this year.
There were complaints that seeds were sold in Beed and Jalna districts at inflated prices, he said.