India on Tuesday dubbed as "outmoded and under stress" the global institutions of governance in the face of new challenges like food and economic security and pitched for closer cooperation among developing countries.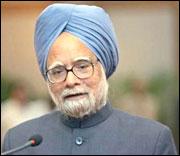 "The current international economic political situation is far from easy, particularly for developing countries," Prime Minister Manmohan Singh said addressing the Second Africa-India Forum Summit being attended by 15 African countries.

"Even as the global economy is recovering from the economic crisis, fresh political upheavals are taking place, most not far from this part of the world," he said.

Noting that the world was facing new challenges in meeting the requirements of food and energy security, he said "global institutions of governance are outmoded and under stress", in an apparent reference to UN, World Bank and International Monetary Fund.

"We therefore need a new spirit of solidarity among developing countries. We must recognise that in this globalised age we all live interconnected lives in a small and fragile planet," he told the leaders
of the African continent.
India has been maintaining that the world bodies like the UN, IMF and the World Bank do not reflect the contemporary realities of the world and urgently needed reforms.
"We must work together to uplift the lives of our people in a manner that preserves the sustainability of our common air, land and water, while recognising the universality of basic needs of the poorest amongst our global citizenry," Singh said.
In his speech, Jean Ping, president of the African Union Commission, underpinned the need for reforms of the United Nations including expansion of the Security Council.
Both India and Africa have supported each other's case for a permanent seat in the Security Council.
Describing India as a fast emerging major economic power, he said with Africa having a vast reservoir of natural resources, the potential for enhancing cooperation in a number of areas was immense.
Co-chairing the meeting with Singh, president of Guinea Equatorial, Obiang Nguema Mbasogo, said Africa positively valued India's policy of cooperation.
He also called for concerted efforts to fight the scourge of terrorism, piracy and mercenaries.