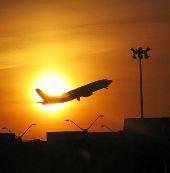 Global airlines' body International Air Transport Association on Tuesday asked the government to improve infrastructure and cut costs and 'excessive' taxation on aviation, saying it could be done by preparing a national aviation policy in India.

"Solutions to these (problems) must be coordinated across all ministries and levels of government. That is why I have called for India to formulate a national aviation policy.

"The call was not for special favours or preferential treatment.

"But rather for a coordinated policy framework that would facilitate growth," Director General of International Air Transport Association Tony Tyler said in New Delhi.

Addressing a Confederation of Indian Industry conference on aviation, he stressed that a stronger aviation sector would act as a catalyst for wider economic benefits.

"Growth is important for India -- not just the aviation industry. Indian economic growth is running at about five per cent. That's near-half of what it used to be.

"And Finance Minister P Chidambaram had a difficult job finding the right levers to pull in order to move towards a more balanced budget which creates the conditions for growth and prosperity.

"Sadly, once again the Finance Minister did not include the aviation industry in his plans, as a strong catalyst for economic growth -- continuing to see it only as a source of taxation," Tyler said.

Maintaining that aviation and aviation-related tourism in India supported 1.5 per cent of GDP or over Rs 900 billion of business and 1.8 per cent of the workforce -- which is 8.8 million jobs.

"And these are good jobs. For those 1.7 million directly employed in transport, each generates about 1.3 million rupees in value added to the Indian economy -- or about ten times the Indian average," the IATA chief said.
The government should focus on improving infrastructure, reducing costs and evolving a more reasonable taxation structure.

These remain "absolutely critical to India's long- term success," Tyler said.

He suggested a series of measures that industry and government could take on a near-to-medium term to deliver tangible benefits, including in the fields of safety, security and e-freight.

Referring to the proposal to establish a Civil Aviation Authority to replace Directorate General of Civil Aviation, he said India should take full advantage of the IATA Operational Safety Audit and the IATA Safety Audit for Ground Operations to enhance capacity building and skill development.

"As India turns a new page in its safety regulation, I urge the incoming CAA to consider incorporating the IOSA standards into India's safety oversight framework for airlines. And ISAGO will be valuable tool for enhancing safety on the ground," the IATA DG said.

Pointing out that security was top priority not only of governments but also airlines, the IATA chief was of the opinion that the current 'one-size-fits all' perspective to security for both cargo and passengers was not sustainable.

"We need an approach that focusses on outcomes and not processes. And we should make the best use of scarce resources by taking a risk-based approach -- recognising that the vast majority of cargo and passengers pose absolutely no threat to aviation or national security," Tyler said.

Referring to the 2008 IATA initiative to do away with paper tickets by all airlines across the globe, the IATA DG said, "By 2015, we are trying to do the same with cargo with 100 per cent conversion to e-air waybills -- an important step in the overall e-freight vision. It is incredible that in the internet age, 50 million tonnes of air cargo shipment still rely largely on paper-based processes."