The Tata group-owned budget hotel chain is going back to the drawing board to reboot the brand. But is it too late?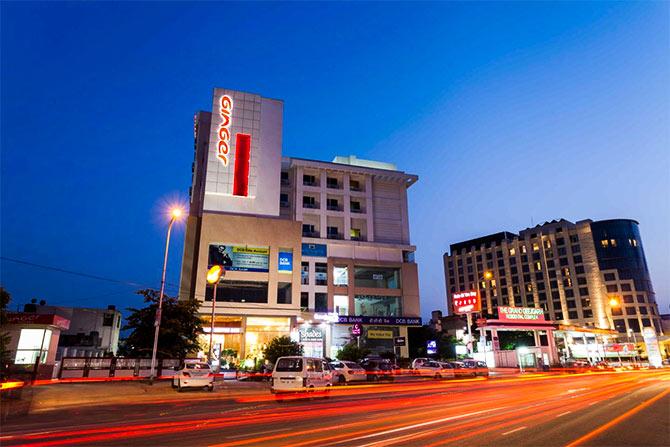 IMAGE: The Jaipur Ginger hotel. Photograph: Kind Courtesy: www.ginger.com.
Losses and rising competition from budget room aggregators are driving the makeover at the 13-year-old Ginger Hotels, owned by the Tata group's Indian Hotels Company which also operates Taj luxury hotels.
Over the past few quarters, the company, that has 37 properties across the country, says it has taken a deep and hard look at the rapidly evolving travel and hospitality environment. And come up with a plan that takes Ginger back to the basics and refreshes the brand in public memory.
Given the rapid rise in the number of players and pitched battle for customers in the segment, Ginger has a rough trek ahead.

The hospitality chain is confident it can put together a winning formula, being among the oldest players in the category.
"I am not trying to give a deluxe experience diluted and then saying I will charge less. The experience we want to deliver is very simple. We are defining it as BBBB: Bed, bath, breakfast and broadband," says Rahul Pandit, managing director and chief executive officer.
Market clutter, changing traveller expectations and evolution of a whole new eco-system of aggregators, developers and reviewers have hit hotels in the budget category.
A host of start-ups have entered the space too. Some are aggregators -- Oyo, Airbnb -- and others run a brand-led franchisee model -- Treebo and Fab.
Budget brands from leading hotel companies, like Ibis (Accor Hotels), Country Inn & Park Inn (Carlson Rezidor) and others, have added to the crowd. Ginger has been slow to catch up with the changes. Though the rapid expansion of capacity in the segment points to a booming demand for such services, it has struggled to get its groove back.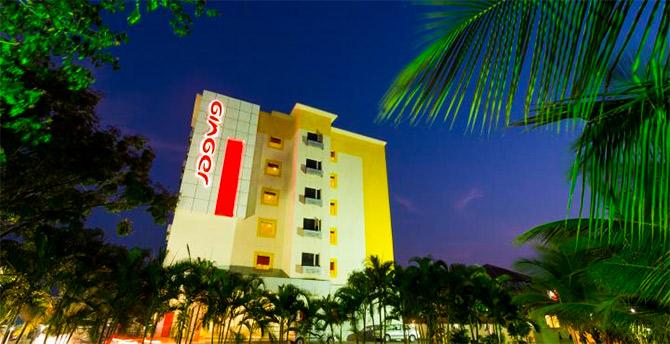 IMAGE: The Goa Ginger hotel. Photograph: Kind Courtesy: www.ginger.com.
Pandit says in the months ahead, they will play to the brand's inherent advantages. He says, "It is not only distribution. The piece of the puzzle we need to crack is how to deliver consistent quality nationally."
Ginger will focus on security and cleanliness as brand differentiators. "In luxury hotels, you don't need to make this promise. This situation is unique to India," he adds.

The hotel chain is also focusing on comfort. It says it is making sure guests are not only guaranteed a comfortable bed, but a room insulated from sound and light to ensure a peaceful night. Double-pane windows, blackout blinds and enviro-seal doors are being put in place.

Ginger is also communicating more clearly with potential customers and taking their feedback seriously. For instance, they once offered shampoo and conditioner in a single dispenser, as many budget hotels do. Pandit says, during an interaction with a group of women guests, he discovered the two needed to be separated. The changes were incorporated, he adds.

"If we deliver the four (BBBB), we are sorted. This is the focus Ginger has in order to reorient the brand. We are doing this for three quarters but are yet to roll it out," says Pandit. Also, "We don't want to deliver everything to everyone."

The brand is being careful not to make promises it can't keep. It does not have a large breakfast menu but quality and extended hours for the morning meal are guaranteed, it tells guests. It also pays heed to complaints: Guests complained about the quality of broadband and Pandit says the team is trying to ensure that the Wi-Fi works smoothly everywhere, even as one walks out of the room to the lift.

The question is whether these changes will be enough to lift the brand out of its losses. Roots Corporation, which owns the Ginger brand, posted a loss of Rs 11 crore in FY16 on revenue of Rs 143 crore.
Pandit maintained that the business was profitable at the operating earning level and the loss was due to exceptional project-related issues. Numbers for the current financial year are not yet available.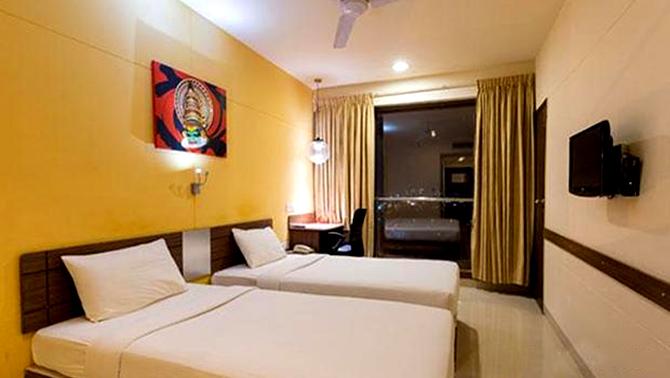 IMAGE: The Chennai Ginger hotel. Photograph: Kind Courtesy: www.ginger.com.
This CEO spent about 12 years with Lemon Tree Hotels before moving to Roots in mid-2015. He believes that Ginger can beat the competition by focusing on the four Bs. These might look simple but a lot of work is being done.
"We are educating people about what we are trying to deliver. The product is easy, the process is difficult and the big challenge is to reorient the workforce."

It is also important to manage guest expectations. Ginger has put in internal audit measures, a customer feedback system and third-party validation through TripAdvisor and HolidayIQ to monitor the reviews. Social media semantics is being followed.
He said a matrix has been put in place to measure and reward performance of the 2,000-plus staff.
What about negative feedback? Pandit says if people flag a negative issue, the good thing is that the guest is giving the hotel a chance to fix it.
"Once you fix it, it is strong brand building. A negative response handled well leads to a much stronger brand ambassador."

Ginger will also look at opportunities to increase engagement with guests at the pre-arrival stage, in residence period and post departure.
"At many hotels, you may find the staff developing amnesia after you pay the bill. That should never happen."
Given the array of choices travellers now have , it will be a challenge getting them to keep coming back for more.