All eyes this year, however, are on Nokia's latest launches.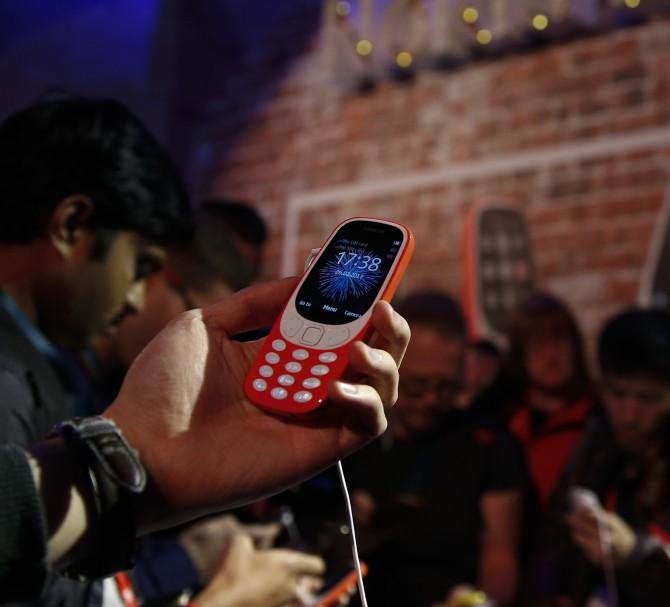 Image: A Nokia 3310 device is displayed after its presentation ceremony at the Mobile World Congress in Barcelona, Spain, on February 26, 2017. Photograph: Paul Hanna/Reuters.
Flagship mobile handsets being launched at the 2017 edition of the Mobile World Congress in Barcelona are expected to enter India within months.
A fleet of bellwether devices has been lined up this year, including from major players such as LG, Moto, Huawei and BlackBerry.
The event also witnesses the return of Nokia with four new handsets.
Most of these models are expected to fight it out in the fastest growing mobile market, India, by the first half of the year.
MWC -- an annual extravaganza, considered the largest exhibition for the mobile handsets industry -- started on Monday. The launches were revealed a day earlier.
Moto, a premium brand from Chinese electronics firm Lenovo, announced the Moto G5 and G5 Plus. The devices are the fifth-generation models of its Moto G series of handsets targeted at the fast growing mid-range price segment (Rs 12,000 to Rs 15,000).
While the company has not declared a launch date for India, industry sources said these could be introduced here before June.
Korean major LG will unveil the next generation of its flagship G series. LG G6, its latest offering for the premium end of the market (above Rs 30,000), could reach India in "next three to four months", a highly placed source told Business Standard.
Samsung will refrain from introducing its flagship smartphone, the Galaxy S8, at the MWC. Analysts said the company was studying the situation after the Note 7 fiasco last October, when the phones had caught fire.
Other players such as BlackBerry, Sony and Huawei are coming up with Android smartphones.
ZTE will unveil the Gigabit -- the first 5G smartphone. However, it is unlikely that the handset will be launched in India this year, given the lack of 5G telecom services in the country.
All eyes this year, however, are on Nokia's latest launches. The brand that once used to dominate the global and Indian markets has announced four handsets. Three Android smartphones -- a first from its stable -- Nokia 3, 5 and 6.
The iconic Nokia 3310, a feature phone still recalled by many for durability and simplicity, is being launched in a new avatar.
The renovated model with a colour display has social media connectivity and has also brought back the popular Snake game.
All four models are expected to be launched in India by April.
"To this day, the model has remained hugely popular, not only because it carries a strong sense of nostalgia but because this was the first mobile gaming experience for many consumers," said Pekka Rantala, Chief Marketing Officer of HMD Global, the current owner of the Nokia brand.
"The opportunity to partner with Facebook is an incredible opportunity."