Partnership between Israel and India is doing wonders, the visiting prime minister tells business leaders.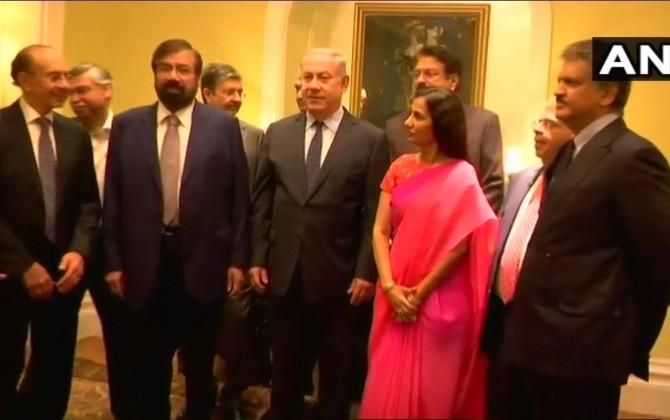 IMAGE: Israeli Prime Minister Benjamin Netanyahu (centre) flanked by Adi Godrej and Harsh Goenka to his right, and Chanda Kochhar and Anand Mahindra to his left. Photograph: ANI.
Stating that the partnership between Israel and India is doing wonders, Israel Prime Minister Benjamin Netanyahu on Thursday asked business leaders to focus on innovation.
"The future belongs to those who innovate," Netanyahu said in his opening remarks at a power breakfast with top corporate honchos at the iconic Taj hotel overlooking the ArabiaSea.
"It is very, very crucial today for you and your Israeli counterparts to meet up, because the future belongs to those who innovate," Netanyahu said at the first of his numerous assignments for the day as he wraps up his four-day India visit.
"We in Israel are seizing the future, you in India are seizing the future. Together, you will get there a lot quicker and also get a lot further," he said.
"Innovation doesn't happen by itself. Some of it does. But it can be nurtured, it can encouraged. It also can be discouraged. The job of governments like that of Prime Minister Modi and my own government is to facilitate your competitive advantages and ability to innovate," he said.
The partnership between Israel and India is doing wonders, the Israel prime minister said.
"It is on the level first of a deep personal friendship between Prime Minister Modi and myself," he said.
"In addition, there is a partnership of genuine sympathy between our people. And that is not obvious. Our two civilisations are very old and we have not met each other in the real sense.
"There is an instant chemical reaction of tremendous solidarity and identification and I see it in my Facebook followers. They haven't changed the algorithm yet and I see it very very strongly. We see it when we walk the streets, the responses that we get here. And Indian citizens, when they come to Israel, they can see it. It is powerful," he said.
"So it is leaders. It is people. But I think the most important thing is to have it among business leaders and technological leaders and entrepreneurs like yourself. This is the cherry on the pie! What a cherry! I thought we will discuss the cherry," Netanyahu said.
Business leaders who were present at the breakfast included Ajay Piramal, Rahul Bajaj, Adi Godrej, Harsh Goenka, Anand Mahindra, Dilip Shanghvi, Ashok Hinduja, Atul Punj and Chanda Kochhar.