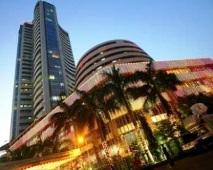 Extending last session's steep fall, shares of Financial Technologies India and Multi Commodity Exchange of India on Friday plummeted by as much as 45 per cent amid problems at group entity National Spot Exchange Ltd.

Making a weak opening, shares of FTIL further tanked 45 per cent to Rs 105.5 -- its fresh 52-week low on the BSE.

In the previous trade, the stock had fallen by as much as 65 per cent.

FTIL-promoted MCX shares were locked in lower circuit as they shed 20 per cent.

Over the past two days, the market value of FTIL has eroded by Rs 1,799 crore (Rs 17.99 billion) to Rs 696 crore (Rs 6.96 billion), while MCX has seen a slump of Rs 1,174 crore (Rs 11.74 billion) to Rs 2,089 crore (Rs 20.89 billion) in its m-cap.

A major crisis erupted at National Spot Exchange on Thursday after it suspended most trades on its platform, prompting the government to order an enquiry by the commodity regulator FMC, while Sebi also began a separate probe amid a crash in shares
of two listed group companies.
The government said it is seriously looking into the matter and has sought a report from Forward Markets Commission within a day.
The consumer affairs ministry, finance ministry and Sebi are keeping a close watch on the situation, Food and Consumer Affairs Minister K V Thomas said on Thursday.
National Spot Exchange Ltd, that provides an electronic platform to farmers and traders for spot trading in farm products and bullion among others, said it would meet all obligations towards brokers and clients who have traded on its platform. Speculations, however, were rife about potential default on payouts running into Rs 5,000-6,000 crore (Rs 50-60 billion).
The bourse blamed "loss of trading interest" and "abrupt structural changes in marketplace" for suspension of trade.
However, there have been speculations that the bourse did not have adequate stock of commodities to make the delivery.
NSEL said it is deferring settlement for all pending contracts for 15 days, raising concerns about potential defaults and liquidity problems at brokers and clients level.