More than the revenue component, the movies gain hugely in terms of visibility and reach, reports T E Narasimhan.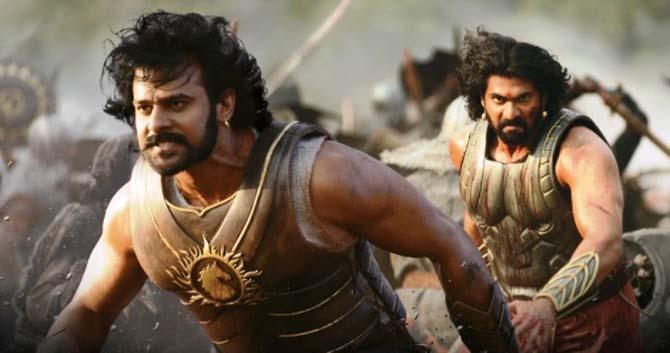 IMAGE: Prabhas and Rana Dagubatti in Baahubali.
Baahubali 2, the sequel to the hugely popular mythological-historical fiction film, hits the screens in India and the US this week.
It already has 15 brands in the bag; companies such as Nestle and Britannia, among others, that have a national and global footprint have all come on board.
Another movie, VIP 2, that stars Dhanush and Kajol has also got the big brands on its rolls, as did the Rajinikanth-starrer Kabaali that was released last year.
As movies made in the south break out of the local mould in terms of storylines and star casts, big brands are flocking in. And producers are pulling out the stops in marketing, merchandising and distributing their films to a larger and wider set of moviegoers.
Producers say that brands have been getting keener on movies in the south as they find that the audience is much larger than the states the film is made in, sometimes even as large as big Bollywood starrers.
This is partly because of the growing southern diaspora and also because of the changing storylines and production values of the movies.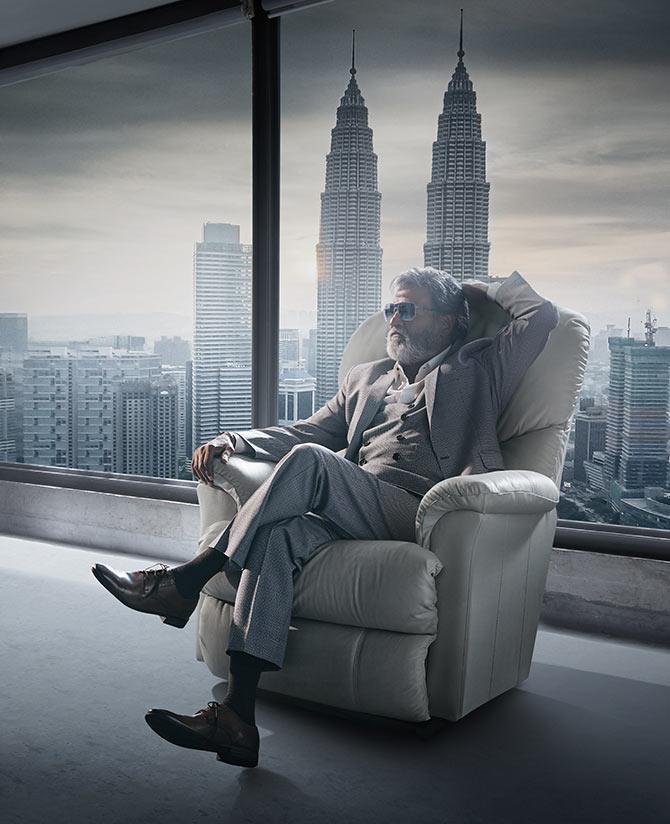 IMAGE: Rajnikanth in Kabaali.
Kabaali had reached over 12,000 screens across the world, on par with some big Bollywood releases of its time.
The excitement around Baahubali 2 has been building for a few months, with the movie producers and fans using digital media to drum up a buzz around the film.
Its trailer became the seventh most-watched online video within 24 hours of launch and has crossed over 100 million views on YouTube so far.
The movie is set to release in over 6,500 screens across the country on April 28.
Brands have worked with the movie makers to come up with several innovative merchandising and promotional initiatives.
Nestlé will use special Baahubali 2 packaging for five new Munch limited edition packs and promote the film through a television campaign and on social media.
Britannia has associated with the movie for Milk Bikis and Tiger biscuits.
Around 150 million Tiger and Milk Bikis packs will be co-branded with Baahubali merchandise and distributed across 1.2 million outlets, the company said.
Tiger will focus on a pan-India approach with merchandise and tattoos gifted along with the product pack.
Ali Harris Shere, vice-president, marketing at Britannia said, "It resonates perfectly with the personalities of both our brands, Tiger and Milk Bikis, which are targeted towards kids across India."
Companies consider movies like Baahubali valuable properties according to Shobu Yarlagadda, producer of Baahubali 2. He says that the movie has become the brand today, implying that it does not need a star to pitch its value to brands just like many superhero films in Hollywood.
Yarlagadda has roped in 15 brands including Nestle, Britannia, Oppo, AMD Radeon and others.
There is no in-film branding, he points out, except for Amrapali Jewellery; the rest are all going to be a part of the movie's promotion and marketing exercise.
Baahubali 2 was produced at a cost of around Rs 200 crore and the team expects to earn around Rs 25-30 crore as direct revenue from these associations.
More than the revenue component, the movies gain hugely in terms of visibility and reach according to D Paranthaman, CEO, V Creations.
His production house worked on Rajinikanth's Kabaali. He had roped in nearly 12 brands for the movie, including AirAsia, Mondelez International, Amazon, Airtel and Shop Cj. "We would have got marketing and branding worth at least Rs 100 crore in Kabaali," he says.
Kabaali was not a one-off success story, Paranthan says.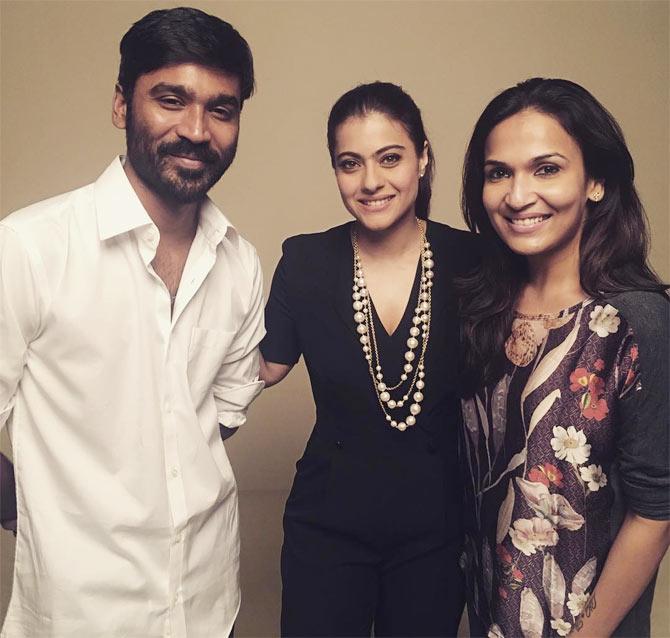 IMAGE: Kajol with her VIP 2 co-star, Dhanush, and his wife, Aishwarya. Photograph: Courtesy Kajol/Twitter
His next venture, Velaiyilla Pattathari 2 (VIP 2) has seen a growing interest from brands, although not on the same scale as Kabaali.
The point he makes is that brands are now looking beyond the big stars as they see a valuable association in movies made in the south.
In the 1980s, when the first brand associations were struck, these were mostly in-film engagements and of a far lower value than the deals today.
Also the brands were largely local players; Apoorva Raagangal in which K Balachander introduced Rajinikanth had its heroine play the part of a sales girl for Medimix soaps, for instance.
In Kamal Haasan's Ala Vandhaan, there was a balloon fight in which oil brand Gold Winner was featured.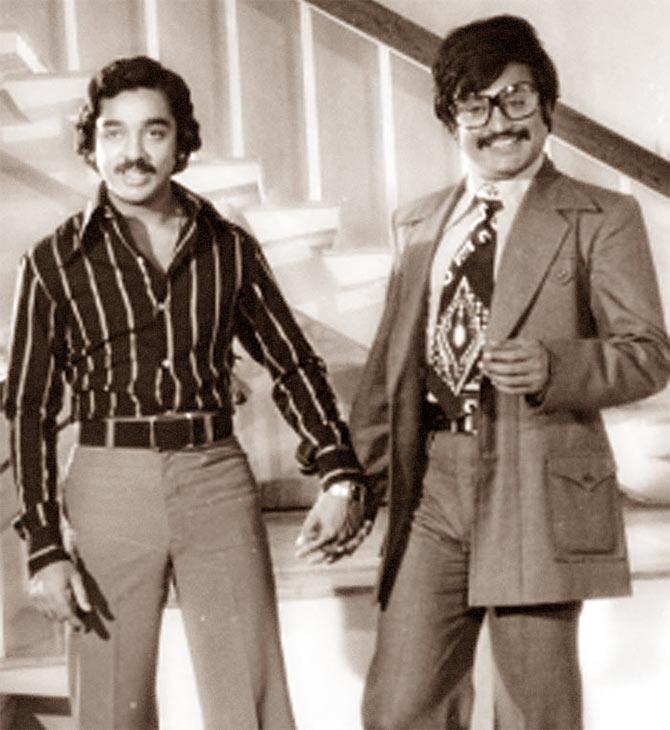 IMAGE: Kamalahaasan and Rajnikanth in an early film featuring them.

And when a global FMCG major such as HUL came on board, it did so for products that had a local fan base such as Fair & Lovely.
Apart from the growing reach of the movies because of the wider geographical spread of its audiences, many movies in the south are being dubbed in multiple languages. This helps increase the brand value of these movies too.
For instance, Kabaali was released in six to seven languages. Baahubali 2 will be out in four Indian languages on the first day of release and will later be dubbed into foreign languages including German, Japanese, French and Chinese apart from English.
Analysts said it is a good time for south Indian films, although there is still a long way before the industry can catch up with Bollywood, just as Bollywood has a way to go before it can match big brother Hollywood.