Patanjali's packet milk to be lower than competitor brands by Rs 2 a litre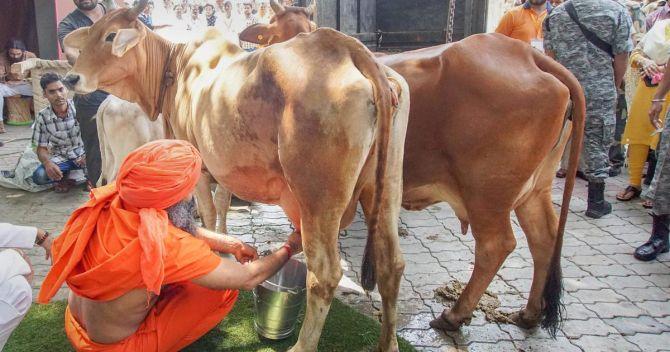 Ramdev co-founded Patanjali Ayurved on Thursday signalled it had no intent to go slow in consumer goods, launching a slew of products amid sluggish annual sales.
In 2017-18 (FY18), Patanjali's top line grew only 13.6 per cent to Rs 120 billion versus an 88 per cent compounded annual growth rate it saw between FY12 and FY17.
On Thursday, the firm forayed into dairy (including cow's milk, curd, cheese, and butter), packaged water (called Divya Jal) and frozen vegetables (including peas, sweet corn, and potatoes), besides entering segments such as solar panels, and cattle feed.
Patanjali also indicated that it was working on a plan of action in textiles and apparels, categories.
"We are aiming to have a business of Rs 1,000 crore next financial year in dairy. This year, we will have a turnover of Rs 500 crore," Ramdev said at a press meet at the Talkatora Stadium in the capital.
Patanjali already gets Rs 1,500 crore annually from cow's ghee, launched a few years ago.
The Rs 1,000 crore figure (in dairy) will be in addition to ghee sales, company executives said.
Priced at Rs 40 a litre, Patanjali's packet milk (launched now) will be lower than competitor brands by Rs 2 (a litre), forcing rivals to take guard.
A Mother Dairy spokesperson said the firm welcomed Patanjali and that its dairy foray would help increase awareness of the benefits of cow's milk and the impact it had on rural milk farmers and the economy.
"Consumer response to our cow's milk is good and it is a driver of growth for us," the spokesperson said.
R S Sodhi, managing director, Gujarat Co-operative Milk Marketing Federation, which makes the Amul brand of products, said that more players would help grow the market.
"New players will help push the market with launches and marketing. That is good for the category.
"As far as cow milk is concerned, we have a strong presence there and it does not deter us if a competitor has launched at a lower price," Sodhi said.
Ramdev, meanwhile, said Patanjali was targeting 1 million litres of daily milk sales in the future and that the firm had already established a network of 56,000 milk vendors in Delhi-NCR, Mumbai, Pune, and Rajasthan.
It would also procure milk from 100,000 farmers and that plans were afoot to launch tetrapak milk and flavoured milk in the coming months, Ramdev said.
The Divya Jal brand, on the other hand, would be available in different pack sizes, Ramdev said.
And future plans included launching fortified water, including Vitamin and herb infused variants.
Apart from launches, Patanjali is also stepping up its overall market presence.
The strategy is to capture the overseas market as early as possible.
"We have already secured approval from the US Food and Drug Administration and will start exporting by March 2019 from our plants in Hardwar and the upcoming food park in Noida.
"The food park in Nagpur will be ready in this year too," said Patanjali spokesperson S K Tijarawala.
Patanjali is setting up manufacturing units in Nepal, Bangladesh, and West Asia, he said.
"We are finalising other export markets as overseas demand for remains robust."
Since late 2016, major players in the food and beverages and personal care space like HUL, Dabur, and Colgate-Palmolive have upped the ante against the Hardwar-based ayurveda major.
While HUL relaunched its ayurvedic brand Lever Ayush after a decade to counter Patanjali's carpet bombing strategy in the personal care space, Dabur extended its ayurvedic brands like Dabur Lal, Hajmola, and Honey and regained lost ground.
Colgate-Palmolive pitched its toothpaste brand Cibaca Vedshakti against Patanjali's Dant Kanti.
Entry of players like Britannia and ITC in the ghee market also played a role in Patanjali's muted sales growth last year.
Photograph: PTI Photo