The risk-reward ratio could turn adverse for foreign investors if corporate earnings disappoint by wide margins, or if crude oil prices spike in the international market, putting pressure on the rupee-dollar exchange rate.
Krishna Kant reports.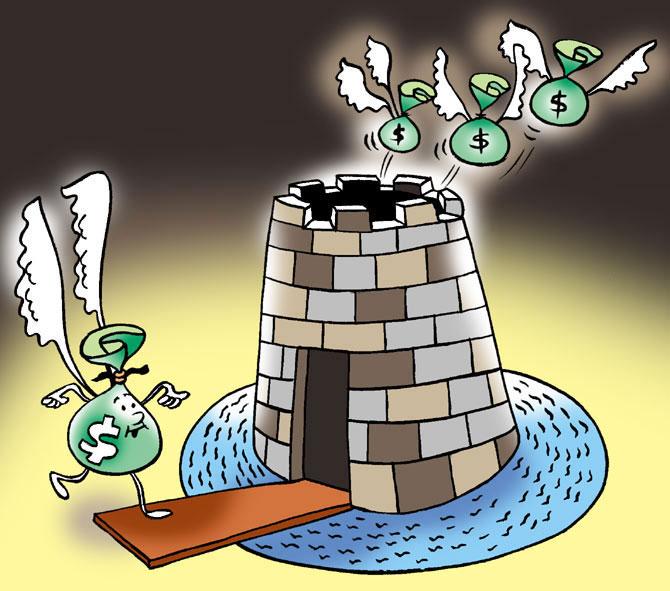 The latest move by the US Federal Reserve to keep its policy interest rates unchanged is likely to provide further leg-up to the rally at Dalal Street.
The US central bank's decision indicates it is not in a hurry to raise rates in the near-to-mid-term, which translates into a higher spread on earnings yield for foreign investors buying Indian equities.
After the Fed's announcement, the yield on the 10-year US government bond moved lower and settled at 2.51%, against 2.54% a day before.
At current interest rates, the earnings yield for a portfolio that mirrors the broad-based BSE 500 index exceeds the US treasury yield by 48 basis points, which is the highest in a year.
In comparison, the spread was a paltry 6 basis points at the end of calendar year 2018, having earlier turned negative during the first quarter of CY18.
According to analysts, this widening of the spread largely explains the recent purchases of Indian equities in the secondary market by foreign portfolio investors.
In contrast, FPIs were net sellers in the last calendar year, as an increase in US interest rates had made earnings yields in India unattractive for them.
"A positive and rising spread means FPIs can earn much more on their Indian equity portfolio compared to yields offered by risk-free US government bonds," says G Chokkalingam, founder and managing director of Equinomics Research and Advisory Services.
The spread will be even higher for a portfolio of relatively fast growing companies in sectors such as technology services, consumer goods, and retail lenders," Chokkalingam added.
FPIs have brought in a net investment of Rs 40,000 crore in the first three months of 2019 (so far) in Indian equity markets, against net sales of Rs 34,000 crore during the 12 months of calendar year 2018.
Earnings yield is the potential dividend yield for investors if a firm distributes its entire net profit of the latest financial year as equity dividend.
It is the inverse of price-to-earnings (P/E) ratio, used to gauge the attractiveness of equities in comparison to bonds that offer a fixed pre-determined yield (or interest rate) on the principal amount.
The earnings yield has steadily declined over the last five years, as stocks have progressively become expensive on the P/E multiple basis.
The BSE 500 index companies are currently trading at 33x their trailing earnings, compared to 16.1x at the end of the December 2013 quarter.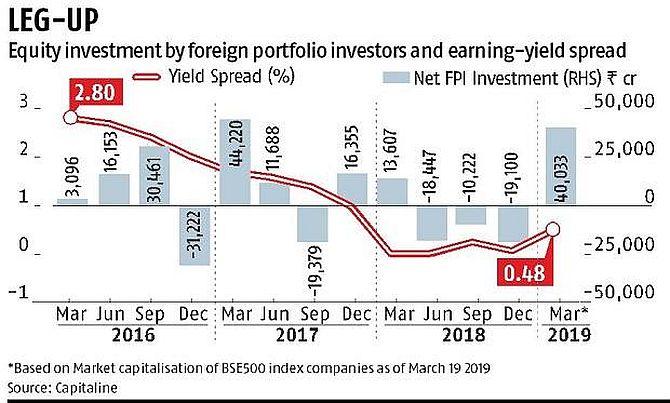 At their current market capitalisation, BSE 500 stocks offer average earnings yield of 3%, based on their combined net profit of Rs 4.18 trillion during the trailing 12 months ended December 2018.
Most analysts expect the earnings yield (at current market capitalisation) to expand after the March 2019 quarter results, as the previous year was poor for corporate earnings.
The combined net profit of BSE 500 companies was down 22.5% on a year-on-year basis, during the January-March 2018 quarter.
Analysts expect corporate India to partially recover lost ground in the forthcoming earnings season.
"Earnings growth will benefit from the lower base last year, which translates to greater earnings yield for an investor who purchased at current stock prices," says Chokkalingam.
"Besides, March is usually a strong quarter for earnings and things are likely to be normal this year, against last year that saw earnings disruptions," adds Chokkalingam.
Foreign investors are also likely to gain from the recent appreciation in the rupee.
For example, FPIs who invested in Indian equities when the rupee was trading at Rs 72 to a dollar have already earned close to 5% on the exchange rate.
The rupee is currently trading at Rs 68.6 to a dollar.
The risk-reward ratio, however, could turn adverse for foreign investors if corporate earnings disappoint by wide margins, or if crude oil prices spike in the international market, putting pressure on the rupee-dollar exchange rate.