Ticker symbols offer quite a bit of information to savvy investors who know what to look for when they see a ticker. In addition to identifying a company, a ticker may indicate the exchange on which a company is traded, whether that company is delinquent in terms of its Securities and Exchange Commission filings, or if a company is currently undergoing bankruptcy proceedings. With so much information available in just a few characters, it's imperative that investors learn the basics of stock ticker symbols. Here we translate ticker talk into plain English.
What is a ticker?
First and foremost, the word "ticker" refers to a series of letters or numbers identifying a particular security on a particular exchange. Stock tickers are the most familiar types of ticker symbols, though options, futures contracts and other types of securities also have ticker symbols.
A few examples of stock tickers include:


Figure 1
Copyright © 2009 Investopedia.com
You may notice that the number of characters differs for these tickers. For example, why does AT&T (T) only get one letter, while Microsoft (MSFT) gets four letters? This is because certain exchanges allow companies to be listed under only one letter, while other exchanges allow companies to be listed with four letters.
Each exchange has its own set of rules when it comes to ticker symbols; stocks listed on the New York Stock Exchange (NYSE) have one, two or three letters in their ticker symbols, while stocks listed on the Nasdaq have four or five letters in their tickers (more on that fifth letter below).
How many characters a company's ticker has, and whether its ticker consists of numbers, letters or other symbols depends on the exchange where that company's stock is traded.
The origin of 'ticker'
If you are wondering how the word "ticker" came to be associated with stock symbols, you are not alone. The word evolved at the turn of the century when news of buy and sell transactions was delivered to brokers' offices by noisy machines that essentially stamped share price data onto thin strips of rolled paper (stock price data streaming across most financial news shows' screens offer us a modern-day version of this concept). These noisy machines made a very distinct ticking noise during their busiest periods, which is how tickers eventually earned their name.
Explaining the exchanges
First, let's look a little more at exchanges; there are dozens of them, and they are all over the world. From the larger and more familiar national exchanges, such as the New York, London and Tokyo Stock exchanges, to the smaller and perhaps less familiar regional exchanges, such as the Philadelphia, Boston or Pacific stock exchanges.
There are even exchanges set up for companies that do not list on a national or regional exchange: the Pink Sheets and the Over-The-Counter Bulletin Board are a few examples of these kinds of exchanges. A company may be listed on only one exchange or on several exchanges - this depends on whether it meets an exchange's listing requirements and whether a company has applied for listing on that exchange.
The easiest way to find out where a company is listed is to visit your favorite finance-oriented website (such as Investopedia's Community) and look for the stock price quote of a company. In most cases, the exchange on which a company is listed will be found in parentheses next to the company's name.
Have a look at Figure 2 below, where you can see how Exxon Mobil Corporation (NYSE:XOM), which trades on the New York Stock Exchange, is quoted on Investopedia. As you can see, an abbreviation for the exchange is right next to the company's name, contained within parentheses. Next to the exchange abbreviation you will find the company's ticker.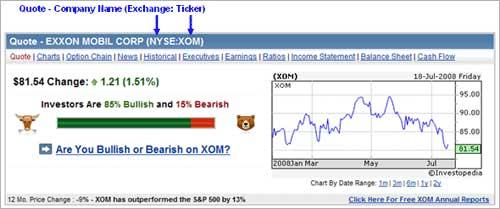 Figure 2
Copyright © 2009 Investopedia.com
Other data sources present a company's ticker and exchange differently. For example, in some instances you might find Exxon Mobil's ticker symbol represented like this: Exxon Mobil Corporation: XOM.N The same information is presented, but it is presented in a slightly different format.
In this case, after the company's ticker there is a dot followed by an abbreviation for the exchange on which the company trades. Remember, there are many different exchanges all over the world and each exchange has its own abbreviation.
Using the format mentioned above, a company traded on the London Stock Exchange would be followed by ".L" while companies trading on the Mexican Stock Exchange may have ".MX" trailing their tickers and companies on the Irish Stock Exchange may be followed by ".IR".
Companies whose shares trade on the pink sheets often have a ".PK" following their stock ticker symbols, while those that trade in electronic over-the-counter markets often have an ".OB" following their stock ticker symbols.
Remember, these are not hard-and-fast rules because tickers and exchanges may be presented differently by different data providers. Another way to figure out where a company's stock is listed is to visit that company's investor relations website (links to investor relations websites are usually prominently displayed on a company's home page).
There, you may be able to find information about where a company lists its stock and the multiple tickers under which stock may be listed. RioTinto, one of the world's largest mining companies, offers a great example of a company that trades on several different exchanges, as reflected by the company's investor relations website and by its tickers NYSE:RTP and OTC:RTPPF.
Whatever data source you choose to use, it is important for you to know which characters constitute a company's stock ticker and which characters represent the exchange on which that stock is traded.
Obtaining a ticker
All of this talk of tickers and exchanges begs the question, "How does a company obtain a ticker?" When a company applies to be listed on a particular exchange, it can apply for a specific ticker, subject to that ticker's availability. Some exchanges, such as the Nasdaq, even allow companies to reserve ticker symbols for up to six months they are listed.
Companies are not required to choose their own tickers, as the exchange may select one at random; however, some companies have used their ticker symbol as creative extensions of their brands. A few of the more notable stock ticker symbols are listed in Figure 3 below.
| | | |
| --- | --- | --- |
| Company | Ticker | Why It Works |
| Avis Budget Group | CAR | Provider of car and truck rental services |
| Genentech | DNA | Biotech firm that researches and manufactures pharmaceuticals |
| Harley-Davidson | HOG | Enthusiasts refer to Harley motorcycles as "hogs" |
| Molson Coors Brewing Company | TAP | Product line includes Coors Light, Blue Moon and Carling |
| Physician's Formula Holdings | FACE | Produces cosmetic products for the face |
| Randgold Resources | GOLD | South Africa-based gold mining and exploration company |
| Shuffle Master | SHFL | This gaming supply company sells automatic card shufflers |
| Sotheby's | BID | Specializes in auctions of fine art, collectibles and jewelry |
| Southwest Airlines | LUV | Dallas-Love Field is Southwest's home airport |
| Steinway Musical Instruments | LVB | This company's ticker is a tribute to Ludwig Van Beethoven |
| Sun Microsystems | JAVA | This company's brands include the Java programming language |
| The Boston Beer Company | SAM | Samuel Adams is among the brands brewed by this company |
| Yum! Brands | YUM | Operates fast food outlets such as KFC and Pizza Hut |
While clever and witty ticker symbols can be something of a novelty, they have nothing to do with a company's intrinsic value, the competence of a company's management team or its financial performance. However, a memorable ticker may draw attention to a name that could have otherwise slipped under the radar.
In some instances, tickers serve to remind the investing community of the industry in which a company operates, like Genentech's ticker, DNA, or a company's major brand, like Sun Microsystems' JAVA. Listing and Delisting Once a company has been approved for listing on an exchange, it must meet several standards to continue being listed on that exchange.
Significantly, most of the larger, national exchanges require companies to maintain current filings with regulatory agencies such as the SEC. If a company fails to meet any of the listing standards put forth by an exchange, then it may be delisted.
When a company is in danger of being delisted, its ticker may change. Usually, a delinquent company will have an additional letter tacked on to its ticker. For example, on the Nasdaq, a company that has not filed its forms with the SEC in a timely manner would see an "E" added to its ticker, while a company currently undergoing bankruptcy proceedings would see a "Q" added to its ticker.
Usually, when a company exits bankruptcy or files its regulatory forms, the fifth letter is removed. An additional letter on a stock ticker is not always a bad omen - sometimes, it represents different classes of stock, new listings, preferred stock, or other situations. As you can see in Figures 4 and 5, below, there are several other instances where a ticker may have additional letters tacked on to it.

Figure 4: Nasdaq fifth-letter descriptions
* The letter "C" as the fifth character in a security symbol indicates that the issuer has been granted a continuance on Nasdaq under an exception to the qualification standards for a limited period. Source: Nasdaq Glossary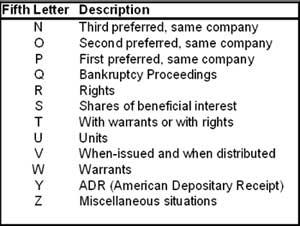 Figure 5
Source: Nasdaq Glossary
After a company has been assigned a ticker symbol and lists on an exchange, a company's management team may decide it would like to change its ticker. There are several reasons for this kind of decision: the company may have merged with (or acquired) another company, a rebranding initiative may be in place, or the company may have changed its name.
Changing a ticker is usually an administrative matter, as a company needs to submit additional paperwork and seek approval for such a change from an exchange. While most companies do not change their tickers often - at least not on the major national exchanges - ticker changes do happen.
Because companies want investors to be able to find their stocks, most companies issue a press release well in advance of a ticker symbol change. Press releases can also be found on a company's investor relations website.
Bottom line
Essentially, understanding ticker symbols is useful for those interested in learning about financial markets. Companies are identified by stock ticker symbols, which offer insight into where a company is listed and traded. There are many exchanges throughout the world, and each exchange has different listing requirements associated with it; thus, it helps to know on which exchange that company trades.
While a ticker symbol can inform you of where a stock trades, it can also tell you whether a company is delinquent in its regulatory filings or is undergoing bankruptcy proceedings, among other details.
Martha Shelton graduated from the University of Texas at Austin with degrees in finance and economics. She spent her time traveling before working on Wall Street in sell-side research. Shelton currently resides in New York; she is a CFA charterholder and holds Series 7, 63, 86 and 87 licenses.