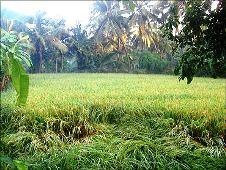 Anti-displacement protests being witnessed all over the country do not mean anything to families engaged in farming at a village 18 kms off Ranchi.

They were among 250 families who had to give up their land in the early 70s for the setting up Army barracks at Dipatoli, then a village and now a cantonment, in Ranchi in undivided Bihar.

Balak Mahato and his family was one among the families which gave up land willingly. Mahato's father bought a small piece of land at Kuchu village, not far from here, with the compensation of Rs 26,000 that he received in 1974.

"I am surprised to see all these anti-displacement disturbances across Jharkhand and elsewhere. Our family also lost land. But we gave it with a smile for the Army's sake. I was just 16 then and have one brother and four sisters," said 52-year-old Mahato.

Balak says now he owns 20 acres of land at the village.

Five of Mahato's neighbours have also benefitted from farming and their children are studying in private schools.

Many of the land-losing families were trained by the Indian Council of Agriculture Research which guided them on successful farming.

"The
ICAR trains them and they participate in our monthly programmes," Shivendra Kumar, principal secretary of the ICAR, said.
Israeli drip irrigation facility has been adopted in about three of the 4.5 acres, owned now by the Mahatos, he said adding the two green houses and one store built by him with subsidy provided by the National Horticulture Mission stand alongside the cowshed and a single-storey house.
The Mahatos market their produce at weekly haats (markets) at villages in the vicinity.
Mahato says his land produces an average 1,500 quintal of seasonal vegetables every month, besides annual production of 1,200 litres of milk which private dairy farms purchase.
The family, he said, also earns Rs 40,000 from poultry farm annually.
Mahato, who also rears cows, goats, poultry and fish, advises young graduates not to run after government jobs, which are in any case very few.
"If the graduates take up farming they can do better than us. Their education will help them pick up agriculture technology more swiftly," said Mahato, who attends workshops organised by the ICAR.
The ICAR official says, "The organisation imparts training on organic farming in its workshop here."