While international players may get the same pay, domestic players may face a cut.

The crisis brought about by multi-level marketing companies that have been putting money in popular football clubs like Kingfisher East Bengal and Mohun Bagan AC is now threatening to hit the players as their contracts come up for renewal next month.
There are apprehensions that while most of the foreign players may get the same pay, domestic players may face a cut. The highest paid foreign footballer in India, Odafe Onyeka Okolie of Mohun Bagan AC, may also face a cut in payment by 20-30 per cent, indicated a club official.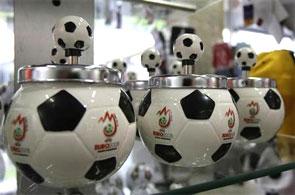 If it happens, it would be the first time in the last ten years that budget allocation of renewing contracts of leading football clubs would be reduced. The Saradha group, which has defrauded several thousand small investors in Bengal, was one of the lead sponsors for Mohun Bagan AC and after the scam was unearthed last month the budget for renewal of contracts with the players is likely to see contraction.
Annual budget for building a football team stands at around Rs 15 crore. Holiday membership offering company Rose Valley, which is under the scanner of Serious Fraud Investigation Office (SFIO), is one of the sponsors for Kingfisher East Bengal.
Debashish Dutta, finance secretary of Mohun Bagan AC, said that there are no sectors in the state which are out of the reach of such chit fund companies and football clubs too have got decent sponsorship deals from these companies from time to time.
"Now that the company has gone bust and many such other companies are also under stress, budget renewal of the contracts will see a definite cut of around 30 per cent. Some common point has to be arrived at with the players," said Dutta.
Another person of the club told Business Standard, on conditions of anonymity, that Odafa is likely to face a cut in his annual pay by 20 per cent. "This is inevitable when the total team budget is trimmed individual players will also face a cut. Odafa is the highest paid foreign footballer in the country," the person added.
According to reports Odafa had a Rs 2 crore contract with Mohun Bagan AC and according to information available on the website of Indian Football Association his contract period ends in fiscal 2012-13. Tolgay Ozbey, Syed Rahim Nabi, Nirmal Chettri of Mohun Bagan AC may have to be content with no hike.
When contacted Ozbey responded in a text message that, "I am in no position to comment about any of this. I am sure it will all be sorted out soon."
Similarly in Kingfisher East Bengal leading players like Uga Okpara(foreign), Edeh Chidi (foreign) , Mehtab Hossain, Sanju Paradhan may not get any hike in the new contract and some of the domestic players may see a reduction in their annual pay.

One of the primary reasons for money marketing companies getting involved in sports clubs is that no major national level companies have come to Bengal in recent times. Thus, alleged chit fund companies which raised money in a short span of time started investing in the football clubs.
East Bengal official Debabrata Sarkar said nothing has been decided in this regard so far. "Let this season end and then we will soon sit and discuss about how to go forward about the renewal of contracts," he said.