Demand for fast-moving consumer goods (FMCGs) went up last month across India, as kirana stores stocked up their shelves in anticipation of a sizzling summer, according to data by retail intelligence firm Bizom.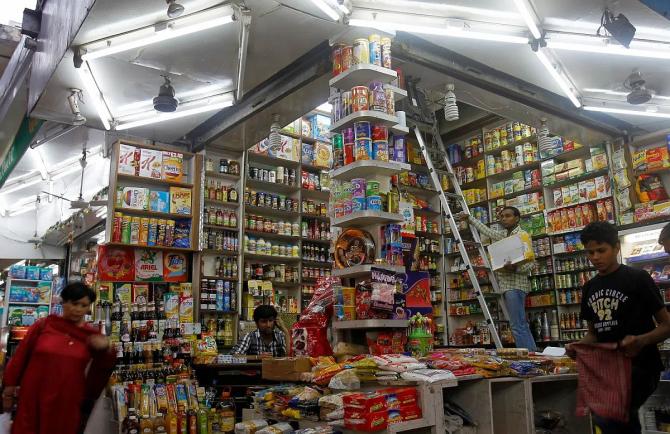 There was a spike in beverages sales across the country despite inflation inching up in February after moderating downward previously, Bizom noted.
"The number of kiranas stocking FMCG products was at an eight-month high and stocking rose by over a fifth as they looked to capitalise on summer demand across product categories," Akshay D'Souza, chief of growth and insight at Bizom, told Business Standard.
"Out-of-home consumption has contributed significantly to boosting sales across categories.
"This has been a welcome change from the conservative purchases in the post-festival season period," he added.
On a month-on-month (MoM) basis, beverages sales shot up 84.6 per cent in February and 4.3 per cent compared to last year.
Personal care products saw a growth of 40.6 per cent in February compared to January and 10.4 per cent compared to February 2022.
Packaged foods grew 27.7 per cent MoM, while it increased by 8.6 per cent YoY.
Rural sales also witnessed a strong pick-up of 12.4 per cent in February compared to last year, while urban sales grew 5.5 per cent last month.
"There is a resurgence in demand, especially in rural areas, as rabi harvesting has begun.
"The wheat crop is a bumper this year and prices are also higher due to which farmers are expecting a good price for their crop," Mayank Shah, senior category head, Parle Products, recently told Business Standard.
Shah added, "The sentiment has been positive since January and we have witnessed a sequential growth in demand.
"Post-Diwali, demand was impacted but that has now recovered."
According to D'Souza, rural consumption showed genuine signs of improvement after August 2022, when consumers had overcome inflation fears to celebrate festivals.
"Central and eastern India have seen a spike in sales driven by an early onset of summer and a rise in stocking," D'Souza added.
Central India saw 36.2 per cent YoY growth and the eastern region 21 per cent compared to February 2022.
Demand in South India, however, still remained slightly weak as summer stocks are yet to be replenished.
Tamil Nadu led the state chart with the highest growth of 23.3 per cent, while Uttar Pradesh recorded 14.5 per cent in February compared to last year.
D'Souza is counting on a significant rise in consumption of FMCG products as food inflation is expected to trend lower globally in 2023.
"As inflation remains in control and range-bound, and with hotter days ahead of us coupled with the upcoming IPL cricket season, we could see a turnaround in consumption for FMCG products, driven by rural," he said.