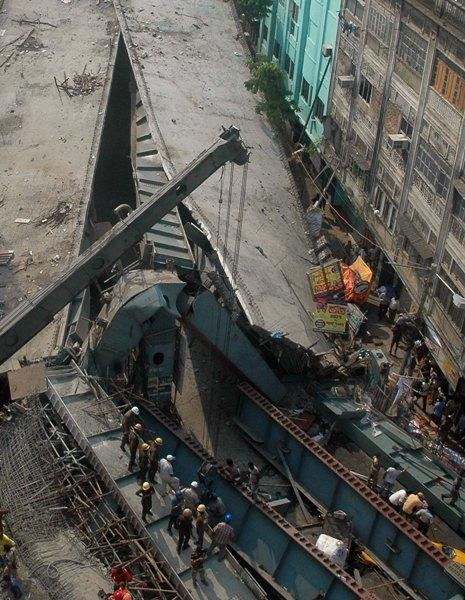 Though IVRCL's projects have exceeded execution time-lines, none matched the delay of this one.
Debt-laden infrastructure company IVRCL faced its biggest crisis when a flyover it was constructing in Kolkata collapsed on Thursday, claiming several lives.
The company has not faced an accident of such magnitude in its 27-year history.
It had been building the Vivekananda Road flyover in Kolkata for seven years.
Though IVRCL's projects have exceeded execution time-lines, none matched the delay of this one.
Promoted by E Sudhir Reddy in 1987, IVRCL started facing financial difficulties in 2012 over shrunken irrigation budgets and project delays.
It ended up with debt of Rs 10,000 crore (Rs 100 billion) and accumulated losses of Rs 2,000 crore (Rs 20 billion) and went in for a corporate debt restructuring in April 2014.
In November 2015, banks invoked strategic debt restructuring to recover their money and approved a resolution to acquire 50 per cent of the company's shares in an attempt to find a buyer.
The consortium of lenders or the Joint Lender's Forum recently converted a part of their debt to equity and now hold 51 per cent stake in IVRCL.
Additionally, to effectively monetise the existing assets, IVRCL spilt its business into EPC (engineering, procurement, construction) company and asset company.
This was mainly done with an intent to increase the financial viability of its EPC projects.
With Thursday's accident, the value of damage to IVRCL is yet to be determined, but the EPC business may take a beating in terms of valuations.
Thursday's accident is expected to add to the difficulty of finding a buyer for IVRCL.
Reddy had reduced the promoter group to a minority shareholder in IVRCL while raising extra money for new projects. IVRCL stock tumbled six per cent on Thursday.
BRIDGES BY IVRCL
Rail overbridge at Perambur, Chennai, Tamil Nadu

Bridge on river Beas on NH 1, Punjab

Bridge on river Cauvery on NH 47, Tamil Nadu

Bridge on river Krishna in Bagalkote district, Karnataka

Rail overbridge on NH5 in Srikakulam, Andhra Pradesh
After he started issuing shares to lenders to convert debt into equity, the promoter group's shareholding fell to 7.69 per cent.
Of this 4.07 per cent is held in the name of a Hindu undivided family and 2.77 per cent is held by Reddy, most of it pledged.
Awarded in February 2009 with an 18-month deadline, the Kolkata flyover is a relatively small project but it posed challenges at every step.
The IVRCL management termed the flyover the toughest project undertaken by Kolkata Metropolitan Development Authority because of its composite steel structure, underground utilities, limited working hours and difficulty in movement of heavy equipment.
Reports suggest that designs too underwent multiple iterations. IVRCL's financial crisis added to the delay.
AGK Murthy, director of operations at IVRCL, said he had no idea what caused the accident as the site was cordoned off by the police.
"The 60th slab casting met with this accident.
"We faced no issues with the casting of 59 slabs. We have no idea of the sequence of events that led to the accident," Murthy said.
"Forty-five per cent of the work was left, one girder missed and the second one fell. This has never happened before, we are in shock," said K Panduranga Rao, head of HR at IVRCL.
Image: A part of the under-construction Vivekananda flyover collapsed in northern part of Kolkata on Thursday, killing about 25 people and injuring many. Photograph: Abhiroop Dey Sarkar/Rediff.com