Air India on Thursday increased the fuel surcharge component in fares on several routes.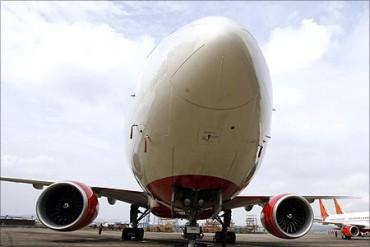 International air travel is set to get costlier as Air India on Thursday increased the fuel surcharge component in fares on several routes. The move comes against the backdrop of a rise in jet fuel costs.

On routes from India to Southeast Asia and Australia, the fuel surcharge has been revised by $15 to $35 (Rs 1,000 to Rs 2,400). Travel agents were notified of this January 19.
The airline is revising the surcharge on Europe and US flights, too, by up to $80 but has not yet announced this increase, it is learnt.

While Air India has merged the basic fare and the fuel surcharge on domestic routes, its international fares still have two distinct components.

Some international airlines like All Nippon Airways do not charge a fuel surcharge but have one consolidated fare. The proportion of fuel surcharge in an airfare is high but it varies for airlines.

On Southeast Asia routes, the fuel surcharge component is 60 to 75 per cent of the total return fare charged by Air India. "Ideally, surcharges should be lower than the fare, but it is the other way round," said Pradip Lulla, vice-president of Travel Agents Federation of India.

Travel industry executives say the increase in the fuel surcharge is in line with rising fuel costs. According to John Nair, head, business travel, Cox & Kings, said, "With aviation turbine fuel prices climbing, airlines will begin increasing their fuel surcharge. As we enter the peak season for travel, we are bullish that despite the revision, travel demand will not come down.''

Other carriers like Qatar Airways have announced plans to revise fuel surcharge, but have not yet implemented it. "I think not only Qatar Airways but most of the airlines will re-introduce the fuel surcharges because they budgeted on lower fuel price and prices are now rising rapidly," Qatar Airways chief executive officer Akbar Al Baker said in Paris last week.

Domestic jet fuel prices rose 8.6 per cent from January 1 in line with rising crude oil prices.
Apart from that, airlines are also impacted by the rising dollar. "Airport charges, too, are increasing and we are under pressure to maintain yields. Unlike airlines in US, which have high dependence on ancillary revenue, we still rely on passenger fares," said an airline executive.
Image: Reuters