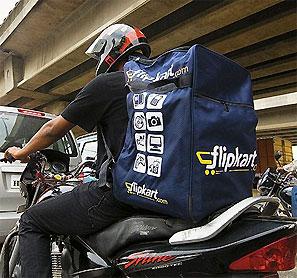 This is the sixth consecutive markdown in the valuation of Flipkart by the US firm.
US-based mutual fund Morgan Stanley marked down the value of its investment in India's largest e-commerce marketplace, Flipkart, by a further 3% in the quarter that ended December 31.
This was despite Flipkart's strong comeback during the festive season, when it outperformed rival Amazon by a large margin.
The exercise also hurts the company's ability to woo investors for new funding.
Morgan Stanley valued each of its shares in Flipkart at $50.50 for the three months that ended in December, down from $142.24 a share in June 2015. That reduces the valuation of Flipkart by two-thirds, to $5.39 bn from a peak of $15.2 bn in mid-2015, when it previously raised funding.
This is the sixth markdown in a row on the valuation of Flipkart by Morgan Stanley.
It follows one of 38% by the US entity in the previous quarter.
Mutual fund investors Fidelity and Valic have joined Morgan Stanley in marking down the value of Flipkart in recent quarters.
The start of 2017 saw a big rejig at the top management in Flipkart, with Kalyan Krishnamurthy, a representative of investor Tiger Global, elevated as chief executive.
For the first time since the inception of Flipkart, neither Sachin Bansal or Binny Bansal was in operational control of the company they founded.
Krishnamurthy has been tasked with the job of turning around Flipkart's fortunes and bringing back investor confidence.
While still early in his tenure, he is seen as taking hard but necessary decisions, especially when it comes to cutting costs by laying off expensive hires from Silicon Valley.
He faces an aggressive Amazon, looking to retain loyalty of customers through its Prime service and the entry of Chinese e-commerce major Alibaba through Paytm with its Paytm Mall.
This comes at a time when the market remains sluggish, after the demonetisation of large value currencies at the end of 2016.